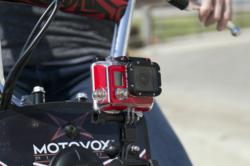 The GoPro is just a plain color, this gives you the chance to really make it your own.
Andover, KS (PRWEB) June 18, 2013
Originally finding its start in the smartphone accessories market, Slickwraps quickly evolved into a leading electronics skin company. Now, Slickwraps is taking one step further into the tech world with the introduction of the Full Body Wrap for the GoPro Hero 1, 2 and 3.
With the addition of the Metal, Wood, Leather, Carbon Fiber and Glow-in-the-Dark Series, Slickwraps now has 60 different styles for customers to choose from when customizing their GoPros. The wraps are available for both the device as well as its waterproof case, allowing users to completely transform their cameras.
"There are so many devices out there to wrap," said Fred Sanchez, Chief Technology Officer for Slickwraps. "We've always had personal electronics in mind when wrapping, so we thought 'why not bring it to the GoPro.' It's such a popular device."
While their primary audience is still concentrated in the smartphone market, the wrap manufacturer has slowly introduced alternative electronics into their line. Recently the company saw success with the expansion of its video game controller wraps, and the addition of the Full Body Wrap for the new Pebble Watch. The GoPro is yet another addition to the mix, and allows the company to introduce the brand to new audiences.
"This camera tends to cater more towards motocross, surfing, skateboarding -- groups who generally utilize style and color. Our wraps give them the opportunity to customize," Sanchez said. "The GoPro is just a plain color, this gives you the chance to really make it your own."
Slickwraps remains an innovator in the electronics accessories market, and the company says it is excited to continue expanding the brand as new devices are introduced.
See the GoPro in action: http://bit.ly/19w7jFX.
About Slickwraps:
Slickwraps is the premier source for quality electronics protection and accessories. Specializing in smart phones and other small electronics, Slickwraps strives to outclass the competition by selling the highest quality materials at the lowest prices possible. All wraps are manufactured in the U.S.A. at the Slickwraps headquarters in Andover, Kansas.