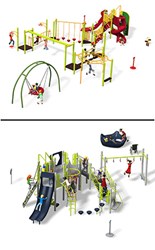 Delano, Minn. (PRWEB) June 18, 2013
Circle K International (CKI) members, the premier collegiate and university community service organization in the world sponsored by Kiwanis International, will give sweat equity on June 24-25 to transform the playgrounds at two Vancouver schools.
Partnering with Delano, Minn-based commercial playground equipment manufacturer, Landscape Structures Inc., and its local consultants, Habitat Systems Inc., more than 150 CKI volunteers will install new playground equipment at Sir Wilfrid Laurier Elementary and Sir Wilfrid Laurier Annex, demonstrating their motto—Live to Serve, Love to Serve. The playground installations are part of CKI's 13th Annual Large Scale Service Project (LSSP), which takes place prior to the consecutive Kiwanis International and CKI conventions June 26-30 at the Vancouver Convention Centre and Westin Bayshore.
Both schools had aging wooden playstructures that were scheduled for removal due to safety concerns. Without the help of CKI, Kiwanis, Landscape Structures and Habitat Systems, the children at these schools would have been without playground equipment until funds could be raised. Sir Wilfrid Laurier Elementary welcomes students in grades kindergarten through 7, while Sir Wilfrid Laurier Annex is open to grades kindergarten through 3. The schools are approximately 10 blocks apart.
"The students were aware that the playgrounds were being removed, and were disappointed," explained Janet Souther, principal of Sir Wilfrid Laurier Elementary School. "The Laurier parents, staff and students at both the Elementary and the Annex have been working hard on various fundraising projects but new playgrounds were still years away. Landscape Structures, Kiwanis, Habitat Systems and our local corporate donors have made this playground a reality and we are beyond grateful! It is truly a once-in-a-lifetime experience. I can't think of a better way to celebrate the end of the school year than letting the students out to go play on their brand new playgrounds!"
The playgrounds at both the Elementary and Annex were designed with the input of students. Principal Souther and Vice Principal Poetschke went to each classroom and asked the students to vote on the playground components that they wanted to see included. From the votes and the expertise of Habitat Systems' playground designers came an inclusive-focused play space for the Annex and a design to offer more challenging play experiences at the Elementary school.
Habitat Systems' certified playground installers will help CKI volunteers dig holes, place posts, pour concrete and construct play components. Once the playground structures are installed, volunteers will move into place 260 cubic yards of Sof' Fall Engineered Wood Fiber safety surfacing; 130 yards of which were donated by Sof' Solutions, place borders and plant gardens. By the end of Tuesday, June 25, the new playgrounds at Sir Wilfrid Laurier Elementary and Annex will be complete.
"Kiwanis International and CKI are excited to build new, modern playgrounds from the ground up," says Pam Norman, director of corporate partnerships for Kiwanis International. "The work will be hard, but worth it. Creating new playstructures for two schools will not only benefit the schools, but also their local neighborhoods."
On Thursday, June 27, at 1p.m. at the Elementary and 2 p.m. at the Annex, a number of volunteers, school officials, students, parents and members of the community will gather for a grand opening of the playgrounds. This day also marks the end of the school year.
About Kiwanis International
Founded in 1915, Kiwanis International is a global organization of members dedicated to serving the children of the world. Kiwanis and its family of clubs, including Circle K International for university students, Key Club for students age 14 to 18, Builders Club for students age 11 to 14, Kiwanis Kids for students age 6 to 12 and Aktion Club for adults living with disabilities, dedicate annually more than 18 million service hours to strengthen communities and serve children. The Kiwanis International family comprises nearly 600,000 adult and youth members in 80 countries and geographic areas. For more information about Kiwanis International, please visit http://www.kiwanis.org.
About Landscape Structures
Since 1971, Landscape Structures Inc. has been the leading commercial playground equipment manufacturer in the world. The employee-owned company is committed to making the world a better place with active children thriving in leading communities year after year, generation after generation. Landscape Structures encourages outdoor play that develops healthy kids and a sustainable world by creating innovative products that are environmentally responsible. The company's mission from day one has been to enhance children's lives by fostering and creating inspiring play experiences while honoring the environment. To learn more about Landscape Structures' partnerships and playground products, visit playlsi.com.
About Habitat Systems
Habitat Systems is a distributor of park, playground and landscape equipment in Western Canada. Since Habitat Systems' opening in 1996, the company has made it their goal to provide a product portfolio that best meets the needs of their clients. Habitat Systems selects innovative products that meet strict quality and safety standards and offers a first-rate service that has established them as a preferred supplier in school districts, municipalities and landscape architecture firms. The company's services include complimentary site assessments, themed designs, product recommendations and installations. Learn more at http://www.habitat-systems.com.