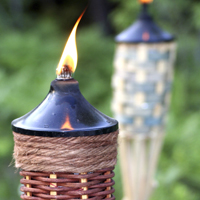 Lincoln, RI (PRWEB) June 13, 2013
Now that the weather is warming up, outdoor lighting can add the perfect touch to any evening backyard gathering or cookout. Many forms of lighting are used to add ambiance, as well as repel insects. That's why Amica Insurance is providing tips to help use tiki torches and citronella candles safely.
Gel fuels are common fuel sources for many tiki torches and citronella candles, but they can be dangerous. In 2011, there were 37 reported incidents that involved gel fuels, according to the U.S. Consumer Product Safety Commission (CPSC). Of those incidents, 23 resulted in burns.
If you have any type of tiki torches or citronella candles, Amica Insurance offers you these six tips from the CPSC and the Excelsior Fire District in Minnesota for safe and proper usage:

Never leave tiki torches or citronella candles unattended. The open flame, as well as the fuel, can be hazardous.
Tiki torches should be safely secured to prevent them from tipping over in the wind or being knocked over. Citronella candles should be placed on a flat, stable surface to avoid spillage.
Do not remove any tags with safety instructions or warnings.
Be sure to keep children and pets away from the open flame and any fuel that is used. When the fuel is not in use, it should be stored away from children.
Check to make sure there are no tree limbs or overhangs near the torch or candle. Wind gusts could bend the flame of the torch, leading to ignition of nearby flammable objects.
Use caution when extinguishing an open flame. Avoid using water, which can spread the tiki torch oil without putting out the flame.
About Amica Insurance
Amica Mutual Insurance Co., the nation's oldest mutual insurer of automobiles, was founded in 1907. The company, based in Lincoln, RI, is a national writer of automobile, homeowners, marine and personal umbrella liability insurance. Life coverage is available through Amica Life Insurance Company, a wholly owned subsidiary. Amica employs more than 3,200 people in 40 offices across the country.
Contact: Vince Burks, Corporate Communications, 50 Amica Way, Lincoln, RI 02865-1155, 800-652-6422, ext. 24563
Twitter: Amica
Facebook: Amica Mutual Insurance Co.