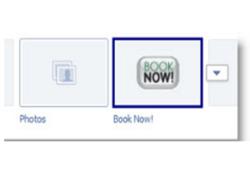 Scottsdale, AZ (PRWEB) June 14, 2013
Can customers instantly schedule a service appointment on your Facebook page? If not, you're missing out on easy sales.
Put an end to lost business with the newly-revamped 'Book Now' button from Appointment-Plus.
It's the latest feature from Appointment-Plus that helps businesses run more successfully and profitably.
"Facebook has become an important marketing tool for businesses around the world," said Bob La Loggia, CEO of Appointment-Plus. "It's the ideal place to offer customers the convenience of online scheduling.
"And it can quickly turn the Facebook page into a money-making tool."
Over 15 million businesses now have a Facebook page. They're growing sales by taking advantage of customer social media trends.
According to Get Satisfaction, 43.5 percent of customers follow a business' Facebook page for special offers. Placing a Book Now button next to these deals can result in more instant sales.
Appointment-Plus makes it easy for clients to add the Book Now button to their Facebook page with just a few clicks. The button lets customers:

Immediately access your online scheduler.
Conveniently view services, staff members and availability.
Instantly book their appointment times.
Learn how the new Appointment-Plus Book Now Facebook button can increase sales at your business. Schedule a free guided tour. Call 800-988-0061. Visit http://www.appointment-plus.com.
#
About Appointment-Plus:
Over 16 million people trust Appointment-Plus online scheduling software for their booking needs. It's the leading scheduler for businesses that provides customer self-scheduling, reminder notifications that reduce no-shows by 70 percent, and staff management tools. The software integrates with Facebook and Twitter.