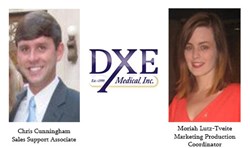 Brentwood, TN (PRWEB) June 14, 2013
DXE Medical, Inc. is pleased to welcome two additions to their growing team.
Chris Cunningham is the new Sales Support Associate. He is a graduate of Auburn University with degrees in Animal Sciences and Biomedical Sciences. When not busy working with DXE, Chris is an avid sportsman and college football fan.
Moriah Lutz-Tveite is DXE's new Marketing Production Coordinator. She graduated in 2011 from Vanderbilt University with a B.A. in Medicine, Health, and Society with a minor in Managerial Studies: Corporate Strategy. She recently completed graduate work at Savannah College of Art & Design with a focus in marketing and design management.
DXE Medical Inc., a Sarnova company, was founded in 1999. It provides new and refurbished defibrillators, AEDs, EKGs, as well as other medical equipment and has grown to serve customers in all 50 states and 40 countries worldwide. For more information, please visit: http://www.dxemed.com/.