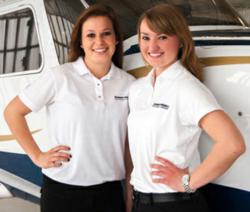 Prescott, Ariz., and Daytona Beach, Fla. (PRWEB) June 13, 2013
Teams from Embry-Riddle's campuses in Prescott, Ariz., and Daytona Beach, Fla., will represent the university in the 2013 Air Race Classic (ARC), a four-day transcontinental flight competition for female pilots.
Flying for Prescott are pilot Shelby King and co-pilot Anna Chrzanowski, while pilot Valdeta Mehanja and co-pilot Danielle Erlichman will fly for Daytona Beach.
The women were selected for this prestigious competition by Embry-Riddle College of Aviation administrators on the basis of their piloting skills, their competitive spirit and their knowledge of aviation, safety, navigation, meteorology and crew resource management. Both teams will fly Cessna 172 aircraft from the university's fleet.
The Embry-Riddle teams will compete against 45 other teams from around the world, including 12 from other universities. This year's race begins at Tri-Cities Airport in Pasco, Wash., on June 18. The racers must navigate and check into airports in nine cities on the 2,458-statute-mile route, completing their journey at Drake Field Airport in Fayetteville, Ark., on June 21.
Embry-Riddle racers have racked up impressive performances in the Air Race Classic over the years. Daytona Beach has participated every year since 2007, finishing twice as the No. 1 team in the collegiate subcategory and capturing the No. 2 ranking in the overall competition. Prescott has taken part every year since 2009, ranking as high as No. 2 in the collegiate division and No. 6 in the overall competition.
Valdeta Mehanja on the Daytona Beach team is pursuing a B.S. in Aeronautical Science and is a flight instructor. Her co-pilot Danielle Erlichman holds that same degree and is currently working as a flight instructor while pursuing an M.S. in Aeronautics. Erlichman also competed for Daytona Beach in last year's Air Race Classic, her team beating all other collegiate teams and placing No. 2 overall.
"I'm very excited and grateful to be representing the Daytona Beach Campus again this year in the Air Race Classic," Erlichman said. "I know my experience from racing last year will give us an advantage as we compete against some of the best female pilots in the world."
The team's alternate pilots are students Waverly Giannotti and Kelsey Tenhoeve and its coach is Marisha Falk, a former ARC competitor who now drives the Embry-Riddle Jet Dragster.
The Daytona Beach team's website is http://riddleracers.wix.com/riddleracervii#.
Shelby King on the Prescott team has nearly completed her B.S. in Aeronautical Science and plans to become a flight instructor. Anna Chrzanowski holds a B.S. in Aeronautical Science and is a flight instructor. The team's alternate pilots are flight instructor Maren Ferreira and former ARC competitor Marlene Wessel. Flight training manager Ryan Albrecht is their coach.
"We at the Prescott Campus are very proud of our race team this year," said Jerry Kidrick, Flight Department chair. "Anna and Shelby have worked very hard to prepare for the race and it has truly been a group effort to get the aircraft and crew ready to compete. The talent, dedication and professionalism it takes to be competitive in a race of this type is a reflection of the quality of the Flight Department's employees and students."
The Prescott team will post updates on their competition progress at http://goerauclassic46.blogspot.com and http://www.facebook.com/groups/115978801779445.
Women in Aviation, International (WAI) is sponsoring the Prescott team. WAI president Dr. Peggy Chabrian founded the nonprofit organization while dean of academic support at the Prescott Campus to encourage the advancement of women in all aviation career fields and interests. To celebrate its 25th anniversary, WAI will hold its regional conference on the campus Oct. 4-5 to coincide with OctoberWest homecoming and alumni events.
Other sponsors of the Prescott ARC team are Embry-Riddle President Dr. John P. Johnson and his wife Maurie; Prescott Campus Chancellor Dr. Frank Ayers and his wife Debbie; the Women in Aviation Club; Allegra Printing; Arizona Aviation Supplies; Cessna; Custom Sticker Makers; ForeFlight; Legend Aviation; Prescott Airport Users Association; Rotary International; San Diego Air & Space Museum; Universal Helicopters; WaitStuff; Warner Propeller; and West Wind Aviation.
Dr. Johnson is also sponsoring the Daytona Beach team, as are other personnel and departments at the Daytona Beach Campus: Chief Academic Officer Dr. Richard Heist and his wife Molly; the Flight Department; the Aviation Maintenance Science Department; the Applied Aviation Sciences Department; and Dr. Guy Smith, chair of the Applied Aviation Sciences Department, and his wife Dr. MaryJo Smith, adjunct professor of doctoral studies. Also supporting the team are Bose; Champion; Daytona Pilot Zone; Goodyear; Oregon Aero; and WxWorx.
This year the Air Race Classic pilots will make stops at P&R Field Airport, Mayfield, Idaho; Mountain Home Municipal Airport, Mountain Home, Idaho; Logan-Cache Airport, Logan, Utah; Harvey Field, Rawlins, Wyo.; Black Hills Airport, Spearfish, S.D.; Brookings Regional Airport, Brookings, S.D.; Brewster Field Airport, Holdrege, Neb.; La Junta Municipal Airport, La Junta, Colo.; and West Woodward Airport, Woodward, Okla.
Each ARC aircraft is judged against its own handicapped cruising speed and teams must follow the route as closely as possible while improving their average speed, a format that focuses more on piloting skills and decision-making than on speed alone.
Other schools fielding teams in the Air Race Classic are Jacksonville University, Liberty University, Louisiana Tech University, Kansas State University, Metropolitan State University, Middle Tennessee State University, Purdue University, Texas State Technical College, University of North Dakota and University of Oklahoma.
About the Air Race Classic
Originally known as the Powder Puff Derby when it was established in 1929, the annual race is sponsored by Air Race Classic Inc., a nonprofit organization dedicated to increasing public awareness of general aviation, presenting and promoting the tradition of pioneering women in aviation, demonstrating women's roles in aviation and encouraging and educating current and future women pilots. For more information, visit http://airraceclassic.org.
About Embry-Riddle Aeronautical University
Embry-Riddle Aeronautical University, the world's largest, fully accredited university specializing in aviation and aerospace, is a nonprofit, independent institution offering more than 40 baccalaureate, master's and Ph.D. degree programs in its colleges of Arts and Sciences, Aviation, Business and Engineering. Embry-Riddle educates students at residential campuses in Daytona Beach, Fla., and Prescott, Ariz., and through the Worldwide Campus with more than 150 locations in the United States, Europe, Asia and the Middle East. The university is a major research center, seeking solutions to real-world problems in partnership with the aerospace industry, other universities and government agencies. For more information, visit http://www.embryriddle.edu, follow us on Twitter (@EmbryRiddle) and http://www.facebook.com/EmbryRiddleUniversity, and find expert videos at YouTube.com/EmbryRiddleUniv.