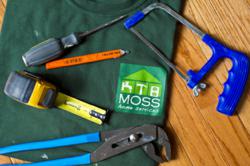 Members can be confident when purchasing Moss Home Services for the day that they will receive superior quality service and customer care.
Chantilly, VA (PRWEB) June 17, 2013
Moss Home Services is offering Angie's List members eight hours of Northern VA handyman or home services for just $499. That is up to a whole day of services!
This offer differs from a typical handyman for a day offer as it allows members to purchase other services for the day, such as plumbing or electrical work and even getting some structural work taken care of too.
"As a three-time Angie's List Super Service Award winner members can be confident when purchasing Moss Home Services for the day that they will receive superior quality service and customer care," says Nathan Shaffer, General Manager of Moss Home Services. "It's great to get the Angie's List seal of approval, but we know and our existing customers know, that when they hire Moss they are treated like part of the Moss family for as long as they are our customer. And for most of our customers, that is a long time!"
Jason Hampel, co-owner of Moss added, "It's a great way to create new relationships with Angie's List members and given Moss' quality of work, we are confident we will continue that relationship when they have other home improvement needs."
To learn more call Moss Home Services today at 703.961.7707 for a free estimate or visit Moss' Angie's List Storefront to learn more about the offer.
Moss Home Services takes care of any home-related request from Northern VA handyman services to refinishing your basement. They tackle the small jobs and the jobs that are too big for a typical handyman company. Here is a sample of services:

Handyman
Plumbing
Electrical
Tile installation
Roofing & siding
Structural work
Countertop replacements
Drywall repair and installation
Gutter Cleaning/Repair
Painting
Annual maintenance plans and much more!
Homeowners who wish to learn more about Moss' remodeling services in Northern Virginia -- including additions, kitchens, baths, basements and home services -- or would like a free consultation, are encouraged to contact Moss (contact information below) or visit the company website at http://www.mossbuildinganddesign.com.
For home improvement in Northern Virginia, you can count on Moss Building & Design. Moss Building & Design and Moss Home Services are award-winning, family-owned residential remodeling and home services companies located in Chantilly, Virginia. Since 2001, we have established a reputation for excellence in remodeling additions, kitchens, bathrooms and basements and performing home services throughout Northern Virginia. Our customers see us as a trusted partner and we are very proud of our exceptional 80% repeat customer and referral rates. Moss Building & Design has won consumer awards like Angie's List Super Service awards the last three years and has an A+ rating from the Better Business Bureau, as well as many other industry building and design awards.