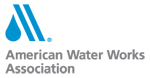 "My promise to you is that I will humbly serve, give all I have to give, leave this a better place and make you proud to be a member of the greatest water organization in the world," Chaffee said.
Denver (PRWEB) June 14, 2013
Jim Chaffee, a senior consultant with Jacobs Engineering Group, Inc., took over as president of the American Water Works Association Wednesday night, promising to serve "with the same dedication and passion that water people demonstrate every day in providing a better world through better water."
The Gavel Passing Ceremony in the Hyatt Regency at the Colorado Convention Center was among the concluding events at AWWA's 132nd Annual Conference and Exposition (ACE13), which brought more than 10,500 water professionals to Denver. Attendees at the ceremony also learned who had won several competitions during ACE13.
Chaffee, who lives in a rural area of central Wisconsin with his wife, Jan, has been an active member of AWWA for 30 years. He is a registered professional engineer in several states, and a Board Certified Environmental Engineer from the American Academy of Environmental Engineers. He has an undergraduate degree in engineering and a master's degree in business from the University of Wisconsin system.
"My promise to you is that I will humbly serve, give all I have to give, leave this a better place and make you proud to be a member of the greatest water organization in the world," Chaffee said.
In his remarks on Wednesday, Chaffee said he would continue work begun by AWWA's Special Presidential Panel (SP2), focusing on educational partnerships between AWWA sections and the Association. He also expressed interest in encouraging the creation of AWWA communities in more countries, and in assuring that AWWA serves its members' desire for more total water solutions to complement AWWA's historical drinking water focus.
Chaffee has been recognized for his contributions by receiving the Wisconsin Section Leon A. Smith Award in 1996 (for distinguished service) and the George Warren Fuller Award in 2004. He has authored over 30 papers or presentations covering a variety of water topics.
Competition Winners
Among the competitions at ACE13 are the Pipe Tapping Contest, Top-Ops, Meter Madness, and the Best of the Best Water Taste Test.
In women's pipe tapping – an event that features teams racing the clock to drill into a cement-lined, ductile iron pipe and install a tap – the San Antonio Water System's Alamo City Tappers defended their title with a winning time of two minutes and 23.81 seconds. The men's title also went to a returning champion, with ALSL from Birmingham Water Works winning with a time of one minute, 12.09 seconds.
Birmingham Water Works won the Top Ops competition as well, which tests the everyday know-how of water treatment operators in a "college bowl" format.
In the Meter Madness contest, in which competitors must assemble a water meter from a bucket of parts, returning champ Michael Dunavent from Virginia again secured the title, with a winning time of 35.87 seconds.
The Oklahoma City Water Utilities Trust captured the 2013 "Best of the Best" Taste Test title, which features regional winners from throughout North America competing for the best-tasting water. This year's contest had 23 entrants; 21 section winners and two Colorado host utilities.
# # #
Founded in 1881, the American Water Works Association is an international, nonprofit, scientific and educational association committed to the safety and improvement of water quality and supply. Focusing its work in four strategic areas, Knowledge Creation and Exchange, Leadership and Advocacy, Member Engagement and Development, and Organizational Stewardship, AWWA unites the full spectrum of the water community to advance water management, education and science and to advocate for smart water policies.