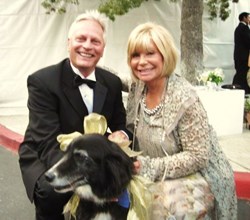 Helen Woodward does such a great work we do hope many will check them out and get involved
San Diego, CA (PRWEB) June 21, 2013
Real Living Lifestyles was a sponsor of Helen Woodward Animal Center's Spring Fling Gala earlier this week. It was the 25th Anniversary of the Spring Fling Gala, and the festivities took place in the beautiful Fairbanks Ranch Plaza, home to Real Living Lifestyles Rancho Santa Fe Real Estate Office.
The evening began with cocktails and hors d'oeuvres followed by over 20 of San Diego's top restaurants sharing their delicious dishes with the guests. The entertainment was first class - American Idol Contestant for the last two years, Kristi Krause performed while everyone danced the night away. When things settled down the live auction began with a package that included a five day Park Ave Penthouse Getaway and a two hour private lunch with five friends and Oscar Award-Winning film icon and animal welfare advocate Diane Keaton.
Throughout the evening guests mingled with the furry friends that Helen Woodward brought along to celebrate. It was a night to remember as the community came together to support such an amazing cause.With so many animals in need it was a pleasure and a delight to see the many guests and volunteers that attended the Gala.
Helen Woodward Animal Center was founded in 1972 in Rancho Santa Fe, CA. The center is a private non-profit organization, "people help animals and animals help people." Servicing over 57,000 people and thousands of animals a year through adoptions, educational and therapeutic programs both onsite and throughout the community.
Steve Rodgers CEO/President of Real Living Lifestyles said, "We are always honored to be part of this event and organization! They do so much in so many ways for some many! They take being animal lovers to a whole new height of what is possible in doing good deeds! Helen Woodward does such a great work we do hope many will check them out and get involved"