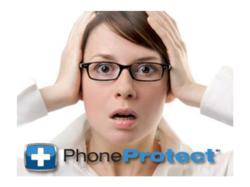 We've all experienced the panic that sets in when you know your phone is missing and you begin to think of all of the personal info and memories you could possibly lose.
Cedar Rapids, IA (PRWEB) June 14, 2013
In the past year alone, more than 7.1 million smartphones were damaged, lost or stolen in the US. Recovering from the loss meant hours of wasted time, expense, possible identity theft, and lost data and memories. Victims had nowhere to turn when confronted with the fact that their phone or tablet was simply gone.
New PhoneProtectSM from SecurityCoverage, Inc launched today to address this significant consumer demand by delivering full-time device and data protection plus on-demand, emergency assistance for lost phones. Priced at $5 a month, the service safeguards consumer device and data, while dedicated professionals are available 24 hours a day to help recover and protect consumers' most valuable possessions.
"Losing a phone or tablet is a horrible experience. Not only are you faced with the expense of a replacement, but the trauma of losing all your personal and private information," said SecurityCoverage President and CEO Robert O'Dell. "Having a trained team to help you find your phone or tablet – while dramatically reducing the risk of lost or exposed data – is peace of mind that just wasn't available before."
PhoneProtectSM subscribers who report a lost device get instant help from technicians who initiate a location and recovery process. In cases where the device can't be physically retrieved, the PhoneProtectSM team can attempt to secure and erase personal information from the device while retaining cloud access to recover or restore the data to a PC or eventual replacement.
"We've all experienced the panic that sets in when you know your phone is missing and you begin to think of all of the personal info and memories you could possibly lose," said O'Dell. "PhoneProtectSM is immediate action…whenever and wherever you are."
Available for Android and iOS devices, PhoneProtectSM technicians professionally install a complete set of apps during signup that augment the emergency, on-demand recovery services with full-time protection against the most pervasive smart phone and tablet risks:

Contacts, photos, videos, and phone histories are automatically and securely backed up and available for recoverable if needed.
Device protection minimizes risks from the download of malicious apps and virus and malware infections from harmful web sites.
Personal information is encrypted and stored, providing another layer of data protection.
Anti-theft features allow location, alerting, locking, and device wipe.
"PhoneProtectSM delivers great value with its round-the-clock protection," said O'Dell. "You stay safe against external attacks and against the loss of personal information.
"And if the worst ever happens," O'Dell continued. "You know the PhoneProtect team is there for you any time you need them."
Consumers can order PhoneProtectSM directly through SecurityCoverage at (888) 360-3628.
About SecurityCoverage
SecurityCoverage's mission is to simplify the use of technology and provide world class customer service. Known for award winning digital security, data protection, and exceptional support services, SecurityCoverage secures online identities and devices across desktop, mobile handset and tablet environments. It serves customers through a partnership group of electronic retailers, wireless distributors, Internet Service Providers, and telecommunications and cable companies across the nation. Product and company information is available at http://www.securitycoverage.com.
Media Contact:
Edward K. Barrett
VP Marketing & Communication
(319) 298-4714
ebarrett(at)securitycoverage(dot)com