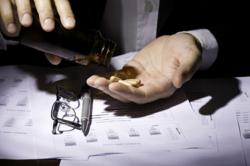 75% of all illegal drug users are employed full or part time.
Jacksonville Beach, FL (PRWEB) June 14, 2013
"The National Institute of Health estimates that drug and alcohol abuse costs the economy over $300 billion a year. The impact on the workforce in terms of increased accidents, medical costs, turnover and loss of credibility in the marketplace are enormous," noted Don Dymer, president and chief executive office of SingleSource Services background screening company. Dymer discussed the impact on the workforce with colleagues during a recent SilkRoad conference in Hollywood, Florida.
Dymer explains, "The object of the recruitment process is to identify and hire the best qualified for the tasks of the job, but an even greater emphasis must be taken to ensure that the many dangerous characteristics an employee may bring to the workplace are identified and excluded. Here are some sobering facts from the U.S. Department of Labor in 2010:
●75% of all illegal drug users are employed (full or part time) and
●3% says they have used illegal drugs before or during work
●79% of heavy alcohol abusers are employed
●7% says they have consumed alcohol during the workday.
As a business owner or manager reading these statistics, this means that there are hundreds of thousands of workdays missed, many injuries that could have been avoided, and many additional workers compensation claims that could have been avoided. What can you do to protect yourself from an employee who engages in substance abuse or commits a crime after they are on your payroll?"
Pre-employment drug screening should be just the beginning. A comprehensive program should include provisions for post accident, with cause, and random drug screening. Post drug testing by employers is legal in most states and may be administered to an employee without having first observed erratic or questionable behavior. This on-site, random drug testing can be an effective tool for employers as a deterrent to preventing problems attached to illegal drug use.
"Drug testing as part of a pre-employment/volunteer screening process is serious business and is one of the biggest areas where employers make mistakes. Some of the most common mistakes we see include: 1.) Failure to have a written drug policy in place that outlines what type of testing will be required and including a policy that outlines the possible outcomes that may result of a verified positive drug test result. 2.) Employees who have not been properly trained and certified to perform testing 3.) Jeopardizing the confidentiality of the test taker, again by not having firm policies or the proper training in place." explains Dymer.
"Each of these mistakes places the employer at double risk. The risk of civil damages could be in the hundreds of thousands or more, add to that state and federal fines, and a poorly executed drug testing program could cost you millions," concludes Dymer.
Regardless of how large or small your business or organization may be, drug testing coupled with a complete background screening program should be treated seriously. Don't assume you can do it yourself, or that you are exempt from litigation simply because you were ignorant of the law. An experienced background screening professional is your best defense and safeguards your business and your reputation," states Dymer.
SingleSource Services is a national employment screening company. The company provides screening services to more than 2,300 companies and non-profit organizations. If you are interested in learning more about drug testing, or would like to purchase on-site drug testing kits, please visit the company at http://www.SingleSourceServices.com.