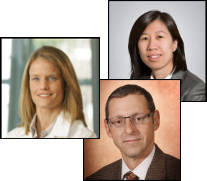 Norwood, MA (PRWEB) June 17, 2013
Infinata's BioPharm Insight will host a new educational webinar, "Takeaways from ASCO: Lung Cancer," highlighting the latest R&D trends in lung cancer on June 20 from 3:30-4:30 pm EDT.
As the leading cause of cancer death among both men and women, lung cancer represents almost 14% of all cancer diagnoses. About 85% of lung cancers are non-small cell lung cancer.
The webinar will:
1. Provide an overview of the current treatment landscape in non-small cell lung cancer
2. Highlight new drugs in development and advances in personalized medicine in lung cancer treatment
3. Discuss key takeaways from the recent American Society of Clinical Oncology (ASCO) meeting in Chicago
Presenters:
Dr. Marcus Neubauer, Medical Director, Oncology Services, McKesson Specialty Health – Dr. Neubauer has been heavily involved in The US Oncology Network for more than 15 years. He serves as chair of The US Oncology Network Pathways Task Force, sits on the editorial board of the Journal of Oncology Practice, and most recently served as an oncologist with Kansas City Cancer Center. He has been published more than 20 times and is a member of the American Society of Clinical Oncology (ASCO). Dr. Neubauer is board certified in Internal Medicine and Medical Oncology.
Karen L. Reckamp, MD, Associate Professor of Medicine in the Department of Medical Oncology and Therapeutics Research at City of Hope and Beckman Research Institute – Dr. Reckamp received her medical degree from University of Chicago, Pritzker School of Medicine and her master's degree in Clinical Investigation through the Specialized Training in Advanced Research (STAR) from the Department of Biomathematics at University of California, Los Angeles (UCLA). Her postgraduate training includes an internship and residency in Internal Medicine at Barnes-Jewish Hospital in St. Louis, Missouri, and a Hematology/Oncology fellowship at the David Geffen School of Medicine at UCLA.
Award-winning journalist Kimberly Ha, Global Editor of BioPharm Insight, will moderate this educational webinar.
Registration is free at https://www4.gotomeeting.com/register/317383343.
About BioPharm Insight
BioPharm Insight is the definitive guide to the global biopharma community. BioPharm Insight provides subscribers with an information edge by combining the most comprehensive real-time database of companies, drugs, contacts, M&A and licensing deals, forecasts and clinical trial data with proprietary forward-looking intelligence uncovered by an independent team of investigative journalists months or even years before it breaks in mainstream media. To learn more, visit http://www.biopharminsight.com. Follow BioPharm Insight on LinkedIn and Twitter.
About Infinata, Inc.
Featuring a comprehensive BioPharm Solutions Suite, unique Wealth Prospecting tools and innovative Custom Data Services, Infinata provides personalized technology solutions to turn information into insight. Infinata is a part of Mergermarket, a Financial Times Group company and a division of Pearson plc. To learn more, visit http://www.infinata.com.