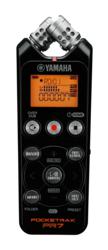 "For a pocket-sized device, the PR7 comes with powerful recording functions," said Athan Billias, Marketing Manager, Pro Audio & Combo division. "Despite the sophisticated features, we have made the interface simpler and more intuitive to operate."
Buena Park, CA (PRWEB) June 14, 2013
Yamaha's new POCKETRAK PR7 is an easy-to-use, ultra-portable linear recorder that captures effortless high-quality recordings whenever and wherever needed. Equipped with newly developed XY stereo microphones, the PR7 captures high-resolution stereo recordings, achieving consistent quality and natural sound regardless of the surrounding environment.
An invaluable tool, the PR7 comes with 2GB of internal memory (with the ability to expand the capacity with micro SD/SDHC memory cards) and features long battery life, mic line inputs for external microphones, 24bit/96kHz recording and a built-in speaker.
"For a pocket-sized device, the PR7 comes with powerful recording functions," said Athan Billias, Marketing Manager, Pro Audio & Combo division. "Despite the sophisticated features, we have made the interface simpler and more intuitive to operate."
The PR7 is equipped with Marker editing that lets users insert up to 36 index markers in audio files either during recordings or playback, providing the location of a particular playback position. These markers can also be used to loop a specific section of a file to re-listen to certain phrases of a recording.
Because each environment comes with a different set of recording demands, the PR7 also features five optimized presets tailored to a variety of applications, perfect for rehearsals, memo-taking, speaking engagements and field recordings. The presets are optimized with an enhanced High Pass Filter that eliminates low frequency noise along with dynamics control settings, which are customized for different recording environments. Settings include OFF, ideal for capturing musical performances, NEAR, which is suitable for near-field recordings, BAND, optimal for ensemble performances, FIELD for outdoor recordings and SPEECH for meetings, seminars and other speaking situations.
In addition, the PR7 comes with Steinberg's WaveLab LE audio editing and mastering software that provides 2-track audio editing with high-end EQ and dynamics processing to improve the sound of the audio file. This software also includes professional level VST plug-ins, giving users a wide range of effects for mastering and enhancing tracks.
Yamaha's POCKETRAK PR7 (MSRP: $249) is now available.
For more information, write Yamaha Corporation of America, P.O. Box 6600, Buena Park, CA 90622; telephone (714) 522-9011; e-mail infostation(at)yamaha(dot)com; visit http://4wrd.it/mp.
About Yamaha
Yamaha Corporation of America (YCA) is one of the largest subsidiaries of Yamaha Corporation, Japan and offers a full line of award-winning musical instruments, sound reinforcement and home entertainment products to the U. S. market. Products include: Yamaha acoustic, digital and hybrid pianos, portable keyboards, guitars, acoustic and electronic drums, band and orchestral instruments, marching percussion products, synthesizers, professional digital and analog audio equipment, Steinberg recording products and Nexo commercial audio products, as well as AV receivers, amplifiers, Blu-ray/CD players, iPod docking systems, home-theater-in-a-box systems, earphones, headphones, sound bars, and its exclusive line of Digital Sound Projectors. YCA markets innovative, finely crafted technology and entertainment products and musical instruments targeted to the hobbyist, education, worship, professional music, installation and consumer markets.