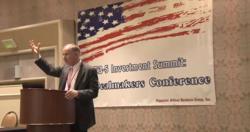 Virtually everyone that is going to be deciding these cases will be new. Decisions will be made by economists, not by immigration service examiners…there's [going to be] what I call short term pain for long term gain."Add a quotable
Long Beach, CA (PRWEB) June 17, 2013
The 3rd Annual EB-5 Investment Summit: Dealmaker's Conference hosted by Artisan Business Group Inc. held at the Hilton Long Beach and Executive Meeting Center. The event attracts many involved in the EB-5 industry from developers to regional center executives, immigration attorneys, service providers and more. The goal of the event is to link these professionals for networking, deal making and an exchange of information regarding EB-5.
Brian Su, founder of Artisan Business Group says, "We're trying to bring all the service providers with developers, regional centers together so we can discuss what we are doing right now and what we are going to do in the future in terms of projects, in terms of raising capital overseas."
One of the VIP speakers included Ron Klasko of Klasko Immigration and Nationality Law. He begins the day making predictions in the EB-5 program for the next year, one of which was the possibility of the Department of Commerce becoming involved in the program. He also acknowledges the move of EB-5's adjudicating unit from California to Washington saying, "Virtually everyone that is going to be deciding these cases will be new. Decisions will be made by economists, not by immigration service examiners…there's [going to be] what I call short term pain for long term gain."
Other VIP speakers included Michael Gibson, managing director of USAdvisors.org, who speaks about transparency and his new website EB5M.com. Gibson speaks with us about the lawsuit the SEC filed against Intercontinental Regional Center Trust of Chicago and the issue of high broker fees among Chinese immigration brokers. He says, "When it comes to investor protection, and that's really the principle mandate of the SEC, they're trying to determine are the projects being marketed in a way that offers the investor adequate protection against fraud and misrepresentation?" He advocates more transparency in the marketplace.
For those new to the EB-5 industry, there is a "Wisdom for New Kids on the Block" forum, giving advice, an overview of the program and the challenges newcomers will face.
Another topic addressed Media and Marketing. The panel includes EB-5 Investment Report publisher Dwight Cromie and John Li of EB5Supermarket.com, who stressed the importance of understanding and using Chinese social media outlets for EB-5 ventures.
Bernard Wolfsdorf, of Wolfsdorf Immigration Law Firm represents several regional centers and speaks to us about the importance of the EB-5 program. He said, "In the EB-5 arena, it's about job creation and bringing in capital…this is good for America. We need capital, we need jobs, so this program is particularly good right now."
The day-long summit concludes with attendees mingling, networking and enjoying an array of ice cream bars from a stocked cooler.