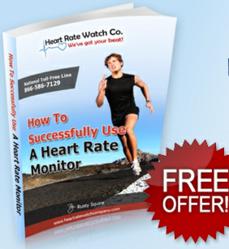 This is our way of saying thanks to our men and women in uniform for their sacrifices toward keeping our country free
Bozeman, MT (PRWEB) June 16, 2013
The Heart Rate Watch Company is offering 10% off all heart rate monitors, GPS watches and fitness devices to all U.S. military personnel and retired military. A new offer includes two complimentary fitness books to all military personnel.
"This is our way of saying thanks to our men and women in uniform for their sacrifices toward keeping our country free", says Rusty Squire, President of the Heart Rate Watch Company. He adds, "It is our small contribution toward keeping our military strong, both figuratively and literally".
HOW TO GET YOUR DISCOUNT
"Simply call the Heart Rate Watch Company on our national toll-free line at 866-586-7129 and we'll give any military personnel a coupon code that gives them a 10% discount off any product on our website," says Squire.
BRANDS
"We carry all the big brands including Garmin GPS watches, Polar, Suunto, Timex and more", says Squire. He adds, "We even have loads of accessories for iPhone fitness and GPS watches like the Garmin fenix that are incredible for navigation and exercise".
NEW - COMPLIMENTARY E-BOOKS
The Heart Rate Watch Company also offers military personnel two complimentary fitness books entitled "How To Successfully Use A Heart Rate Monitor" and "How To Elevate Fitness With Strength and Interval Training."
"These books will help you get fit the right way and build a big aerobic engine and raise your fitness to the next level," says Squire.
To get your 10% off coupon code simply contact the Heart Rate Watch Company and save on your fitness gear.