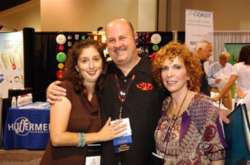 This show is really the gateway to what we call the Second Selling Season.
Chatsworth, CA (PRWEB) June 14, 2013
The Specialty Advertising Association of California (SAAC) will hold their annual trade show in Long Beach on August 7 and 8, 2013. HALO Branded Solutions' Regional Vice President Rick Greene, who is on SAAC's board of directors and is a past president of the organization, expects many of HALO Branded Solutions Chatsworth Account Executives to attend the event.
The 2013 SAAC Show provides suppliers an opportunity to showcase their products to distributors. HALO's Account Executives can get the best promotional products inspiration and create new relationships with suppliers. So for those with specific business needs or new promotional marketing projects, this is a great time to let HALO Branded Solutions' promotional product specialists know.
"We're pretty excited about attending this year's SAAC Show," said Greene, "This show is really the gateway to what we call the Second Selling Season – that busy time of year when we are showing our clients amazing ideas for their holiday client gifts and staff appreciation, their end of year sales awards and recognition programs and promotional solutions for the upcoming 2014 trade show season, which kicks off in January – ways to get clients and prospects into YOUR trade show booths throughout 2014. All this work and the hunt for new ideas begins at The SAAC Show in August! Be sure to connect with Halo Branded Solutions and let us know what your promotional needs and projects are so we can be your eyes and ears at this important show!"
For more information on this story and promotional products in the Los Angeles area, visit:
http://www.halo.com/promotional-products-los-angeles-california/halo-account-executives-attend-2013-SAAC-show.aspx
About HALO Branded Solutions
HALO Branded Solutions, with operational headquarters in Sterling, Illinois, is a leading promotional products distributor in the $18 billion per year promotional products industry. The Company has a growing nationwide sales force, with regional account executives in key cities across the country including the Denver-area, and expects to continue its profitable growth by offering innovative client solutions, priced competitively, and supported by world-class operations and customer service.