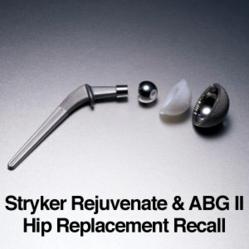 We offer free Stryker Rejuvenate Hip Recall Lawsuit evaluations to those who have sustained serious injuries due to Stryker's Rejuvenate or ABG II Hip Stem. Call Alonso Krangle LLP at 1-800-403-6191 or visit our website, FightForVictims.com
New York, NY (PRWEB) June 13, 2013
More than 40 Stryker Rejuvenate hip recall lawsuits have been ordered by the U.S. Judicial Panel on Multidistrict Litigation (JPMDL) to be transferred to the U.S. District Court of Minnesota in order to facilitate the discovery process of these cases and preserve the court's resources. The transfer of these cases that are part of Stryker Rejuvenate hip MDL 2441 was officially mandated by a Transfer Order dated June 12, 2013 and specifically applies to Stryker Rejuvenate hip recall lawsuits related to complaints regarding the Rejuvenate and the ABG II Hip Stem. These Stryker Rejuvenate hip lawsuits, as well as all future Stryker Rejuvenate hip lawsuits related to Stryker's Rejuvenate and ABG II Hip Stem, will be under the jurisdiction of Judge Donavan W. Frank in the Minnesota Federal Court (In Re: Stryker Rejuvenate and ABG II Hip Implant Products Liability Litigation, MDL No. 2441).
( .jpml.uscourts.gov/sites/jpml/files/MDL-2441-Initial_Transfer-05-13.pdf) [June 2013]
Alonso Krangle's experienced medical device and product liability attorneys are dedicated to standing up for victims' rights and holding even the largest corporations, like Stryker, accountable for their potentially dangerous devices. We offer free Stryker Rejuvenate Hip Recall Lawsuit evaluations to those who have sustained serious injuries that could be linked to Stryker's Rejuvenate or ABG II Hip Stem. To discuss a potential claim with one of the compassionate lawyers at Alonso Krangle LLP, please contact us at 1-800-403-6191 or visit our website, FightForVictims.com
MDL for Stryker Hip Recall Lawsuits
All of the Stryker hip recall lawsuits that are part of MDL 2441 will undergo a collective discovery process in Minnesota Federal Court in order to clarify common issues regarding alleged hip implant design defects, as well as the safety and effectiveness of Stryker hip implants. Some of the injuries and problems that these Stryker hip recall lawsuits allege include tissue death, metallosis, loosening or early failure of the hip implant, damage to the bones and tissues surrounding the implant and the need for risky revision surgery to remove defective Stryker hip implants.
The goal of Stryker MDL is to prevent inconsistent rulings regarding these issues during the discovery process and to preserve the resources of the courts and the litigants involved in these lawsuits.
( literature.ortho.stryker.com/files/REJUV_COM_23.pdf) [2013]
The recent consolidation of the Rejuvenate and ABG II Hip Stem Stryker lawsuits is the second MDL action taken in Stryker complaints thus far in 2013. In January, the New Jersey Supreme Court ordered that all such cases filed in the state be consolidated in MultiCounty Litigation under the jurisdiction of Judge Brian Martinotti in the Bergen County Superior Court. Mediation for these cases is currently underway in New Jersey (In re Stryker Rejuvenate Hip Stem and the ABG II Modular Hip Stem Litigation, No. 296).
( .judiciary.state.nj.us/)
About Alonso Krangle LLP
Andres Alonso and David Krangle, attorneys with almost 40 years of collective legal experience, have focused their law practice on handling significant personal injury cases, defective drug and medical device litigation, construction site accidents, nursing home abuse, medical negligence, qui tam/whistleblower actions and consumer fraud cases. Alonso Krangle LLP is headquartered in Long Island, New York, with offices in New York City, and New Jersey.
For more information about Alonso Krangle or to join the fight and be a part of our team, please contact us at 1-800-403-6191 or visit our website, FightForVictims.com.