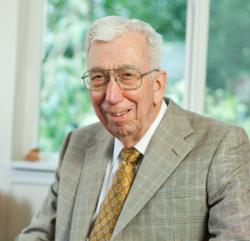 Des Moines, WA (PRWEB) June 15, 2013
Kevin Anderson, President and CEO of Wesley Homes Retirement Communities and Home Health Services, announced the election of the Board of Trustees for the 2013-2014 year after the company's annual meeting earlier this year.
Newly elected to the Wesley Homes Board of Trustees, Jack Wimpress is retired from the Boeing Company where he enjoyed a long career offering leadership in Research and Development, the Military Division and the Commercial Sales Division. He currently lectures at the Museum of Flight in Seattle and is a resident of Wesley Homes Des Moines.
Individual members of the Board of Trustees are elected for three consecutive three-year terms by the corporation, consisting of United Methodists and Board members, at its annual meeting. For 2013, the Board of Trustees members are Mr. Ed Rogel (Chair), Mr. Clark Daffern (Vice Chair), Ms. Anne Shannon (Secretary), Mr. Brian Garrett (Treasurer), Mrs. Debbie Bevier (past chair), Mr. Tom Crews, Rev. Dennis Magnuson, Mr. Brent Smith, Wimpress and Mrs. Jenni Yeoh.
All candidates were elected in accordance with the bylaws of Wesley Homes.
Founded in 1944, Wesley Homes is a not-for-profit organization that provides a network of services offering a continuum of care for over 1,800 older adults with two retirement communities in south King County, a private pay home care agency and a Medicare-certified home health agency. It is affiliated with the Pacific Northwest Conference of the United Methodist Church.
WESLEY HOMES
Retirement Communities, Home Health Services & Foundation
815 S. 216th Street
Des Moines, WA 98198
(206) 824-5000