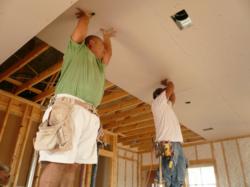 Burbank, CA (PRWEB) June 14, 2013
Drywall contractors are extremely important to the building industry. Their expertise is used in every room of a private home as well as corporate, industrial and government buildings. Many have struggled to stay afloat during the economic downturn in the building industry and even the smallest suit or claim that is not covered by insurance can be enough to close the doors on a smaller sub-contractor permanently. Drywall contractor insurance is a necessity and not a luxury.
Drywall contractors rely on products purchased from third parties and work performed by teams of skilled laborers. Anytime you deal with the human element, inadvertent accidents can happen. The materials themselves may be faulty or the skilled laborer makes an error in judgment. There are a myriad of obstacles that can be challenging in completing a job. One accident or damage to a client's property should not put the small sub-contractor out of business. This is where the importance of business insurance drywall contractor comes to the forefront.
Whenever a general contractor or home owner hires a Drywall Contractor they will ask for proof of general liability insurance written for a specific minimum. Commercial Liability Insurance in its original format will protect the sub-contractor against property damage or liability that results from injuries or damages caused by employees. It does not cover many scenarios. This specialized general liability insurance written for Drywall Contractors is designed to provide more comprehensive coverage at a price that a smaller sub-contractor can afford.
USA Business Insurance points out areas that can be of concern for the Drywall Contractor. These instances happen every day around the country. Scaffolding can break due to age or improper installation and a worker could fall experiencing painful and debilitating injuries. This scaffolding collapse could cause damage to the owner's property adding insult to injury.
Small business owners like the Drywall Contractor are doing everything humanly possible to attract new quality jobs to keep their companies in the black. It takes a burden from the business owner's mind to know that his general liability insurance is written to cover various scenarios that are indigenous to his trade. The business owner can keep his mind on finishing the best job possible without the added stress of worrying about injuries, property damage and faulty drywall.
USA Business Insurance continues to bring innovative concepts in general liability insurance for specific niche business in the United States. Each state may have specific requirements and these are always taken into consideration.
To learn more about drywall contractor insurance please visit http://www.businessinsuranceusa.com/drywall-contractor-commercial-business-insurancehttp://www.businessinsuranceusa.com