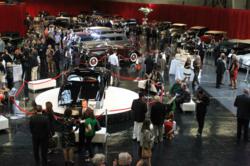 "We are grateful that so many city leaders and members of the Academy of Art community came out for a night to enjoy art while contributing to the recovery efforts in Oklahoma." - President Elisa Stephens
San Francisco, California (PRWEB) June 13, 2013
San Francisco business and community leaders, including Mayor Ed Lee, attended an Academy of Art University fundraiser that raised close to $30,000 for survivors of the devastating Oklahoma tornadoes. The special art exhibit, organized by the Academy of Art, was held at the Palace of Fine Arts and featured the Stephens Family's world famous classic car collection of over 50 cars and award-winning student artwork. Proceeds benefit United Way of Central Oklahoma May Tornadoes Relief Fund.
Dr. Elisa Stephens, President of the Academy of Art University, said "When tragedy strikes, everyone wants to do something to support those in need and we are grateful that so many city leaders and members of the Academy of Art community came out for a night to enjoy art while contributing to the recovery efforts in Oklahoma."
Mayor Ed Lee added, "It is going to take years for the survivors to fully recover from the devastation in Oklahoma and it is important for the good people there to know that they have the support of the rest of the country. So many people in San Francisco have asked what they can do to help and we encourage people who were not able to attend the fundraiser to contribute whatever they can to United Way of Central Oklahoma."
More than 300 people attended the event including Dr. Elisa Stephens, President of Academy of Art University; San Francisco Mayor Edwin M. Lee; Eric McDonnell, COO United Way Bay Area; angel investor Ron Conway; Naomi Kelly, City Administrator; Greg Suhr, Chief, SF Police Department; Joanne Hayes, Chief, SF Fire Department; Tom C. Hui, Acting Director Building Inspection; Phil Ginsburg, General Manager, Recreational & Park Department; Mohammed Nuru, Director, Department of Public Works; Harlan Kelly, General Manager, SF Public Utilities Commission; and Mauro Battocchi, Consul General of Italy.
Eric McDonnell, Chief Operating Officer of United Way of the Bay Area said, "The outpouring of support around the country for the victims in Oklahoma has been tremendous. United Way provides the public with a trusted partner who will ensure that every dollar donated goes to the people most in need right now. The people of Oklahoma need our help and we are grateful to the San Francisco community for coming together and showing their support."
After the devastating May tornadoes, United Way of Central Oklahoma activated its disaster relief fund so individuals could contribute specifically to relief and recovery efforts. Fund dollars are being distributed without administrative fees to United Way partner agencies working on the tornado relief efforts. The May Tornado Relief Fund serves both immediate needs, intermediate, and long-term care. For those interested in making a contribution, visit http://www.unitedwayokc.org.
About the Academy of Art University
With more than 18,000 students, Academy of Art University is the nation's largest private art and design university. Established in 1929, the school offers accredited AA, BA, BFA, B.Arch*, MA, M.Arch and MFA programs in 23 different majors, as well as continuing art education, with classes in Acting, Advertising, Animation & Visual Effects, Architecture, Art Education, Art History(BFA), Fashion, Fashion Journalism, Fashion Styling, Fine Art, Game Design, Graphic Design, Illustration, Industrial Design, Interior Architecture & Design, Jewelry and Metal Arts, Landscape Architecture, Motion Pictures & Television, Multimedia Communications, Music Production & Sound Design for Visual Media, Photography, Visual Development and Web Design & New Media. Students can also enroll in flexible online degree programs in most majors. Academy of Art University is an accredited member of WASC (Western Association of Schools and Colleges), NASAD (National Association of Schools of Art and Design), Council for Interior Design Accreditation (BFA and MFA-IAD) and NAAB (M-Arch, B.Arch*). For more information, visit http://www.academyart.edu or call 1-800-544-2787.
*B.Arch program in candidacy status with NAAB
About United Way of the Bay Area
United Way of the Bay Area is a nonprofit organization, leading a movement to cut Bay Area poverty in half by 2020. We're harnessing the collective power of nonprofits, government, corporations, labor and thousands of individuals to create change through giving, advocating, and volunteering. Every year, our programs - SparkPoint, Earn It! Keep It! Save It!, 211, MatchBridge and Community Schools – help more than 250,000 Bay Area residents. We connect people to food and shelter, put people back to work, bring tax dollars back to our community, help youth succeed in school and in the workplace, and move people toward financial stability. Founded in 1922, United Way of the Bay Area serves Alameda, Contra Costa, Marin, Napa, San Francisco, San Mateo and Solano Counties. For more information, visit http://www.uwba.org.
##