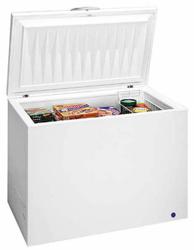 Chest freezers save nearly thirty percent in energy cost compared to their door-swinging counterparts
San Diego, CA (PRWEB) June 25, 2013
Over the last decades, the efficiency of most appliances, including freezers, has improved significantly. Current models use less than half as much electricity per year as models from the 90's; around the last time many households bought a second freezer.
Consumers instinctively fear the upfront investment cost in replacing an old freezer. According to analysis by ClearlyEnergy, a 20-year-old chest freezer in the most popular size range uses about 845 kWh per year of electricity, when a new energy star model of the same size uses only 361 kWh, a savings about $50 a year if a customer lives in a place with average power prices like Philadelphia or Baltimore - actual energy savings ultimately depend on local electricity prices, for instance electricity costs over three times more in New York City than Atlanta.
On top of these savings, those two cities also happen to offer rebates. Norma Autry, co-founder of ClearlyEnergy notes that "in Philadelphia the local utility offers a $35 rebate to haul away your old freezer and recycle it responsibly, while Baltimore Gas & Electric pays its customers $75 toward a new efficient freezer. Combined with the electricity savings, this goes a long way towards making the investment in a new freezer a no-brainer."
ClearlyEnergy, the leading provider of energy savy search for appliances and electric choice, also found that there is also a crucial difference between the two basic types of freezers, chest and upright. "The average EnergyStar upright freezer in our size range uses 565 kWh a year, whereas the average chest freezer in that size range uses only 360 kWh," says Véronique Bugnion, co-founder of ClearlyEnergy. "For freezers, the upright-style models are usually less energy efficient than the chest ones because they have features that increase the freezer's overall energy use, like trays, movable shelves and sometimes automatic defrost functions and icemakers."
In fact, while choosing an EnergyStar model over a conventional one does save on electricity use, the chest freezers save nearly thirty percent in energy cost compared to their door-swinging counterparts. Moreover, their relative simplicity of design makes chest-type freezers much cheaper than upright.
ClearlyEnergy's appliance search tool helps consumers compare prices and calculate the specific energy savings of buying a new freezer.