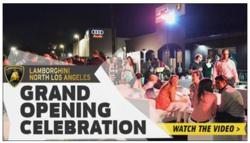 Woodland Hills, CA (PRWEB) June 14, 2013
Lamborghini North Los Angeles, the popular Lamborghini dealership in Northern Los Angeles, recently celebrated the 50th anniversary of Lamborghini and the opening of their new state-of-the-art showroom with a star-studded gala. The celebration attracted over 400 guests, including family, friends, and numerous celebrities and top representatives of the famous Italian super car manufacturer. Links to pictures and videos from the event are available via LamborghiniNorthLosAngeles.com.
The celebration marked the official Grand Opening Event for Lamborghini North Los Angeles. Attendees cheered the occasion as a sexy and thrilling experience, much in line with Lamborghini's storied reputation. The evening featured a special cocktail reception, the highly anticipated brand new building unveil, and a 50th Anniversary-inspired menu curated by chef Michael Voltaggio, the celebrated winner of the sixth season of the popular cooking show Top Chef.
In attendance were several stars of the big screen, like actor Max Ryan (Sex and the City 2), actress, writer and producer Alyssa Lobit (Among Friends, The Things We Carry), and actor J. Michael Trautmann (Shameless, Treehouse, Here Comes the Boom). Also in attendance was Stephan Winkelmann, President and CEO of Automobili Lamborghini.
Lamborghini's 50th Anniversary marks a milestone for the world famous Italian exotic super car manufacturer. Few automobiles in the world command as much respect and adulation as the Lamborghini. The company is internationally known for unsurpassed and unwavering quality, luxury, and beauty.
Lamborghini North Los Angeles seeks to carry on that tradition with their new state-of-the-art Lamborghini Los Angeles dealership. Staffed with an industry-best professional team, the young Lambo dealer seeks to offer the highest quality exotic super cars and pre-owned inventory on the market, with a welcoming and enthusiastic retail experience. Lamborghini North Los Angeles encourages customers to visit their new showroom or to make an appointment today.
Lamborghini North Los Angeles is proud of the success of their recent Grand Opening Event and celebration of Lamborghini's 50th anniversary. The L.A. Lambo dealership recommends visiting LamborghiniNorthLosAngeles.com for more details on their new location, inventory and events.
About Lamborghini North Los Angeles:
Lamborghini North Los Angeles is a leading Lamborghini dealership serving the greater Los Angeles area and beyond. They offer exotic super cars with an exclusive collection of premium pre-owned inventory. They offer the iconic 2012 Lamborghini Aventador, 2012 Lamborghini Gallardo, and Lamborghini classics. Their professional and friendly staff provides best-in-class service and financing solutions. They supply highly trained service technicians in their state-of-the-art service facility for high quality and timely repairs. For more information, visit http://www.lamborghininorthlosangeles.com/ or follow them on Google+, YouTube, Facebook, or Twitter.