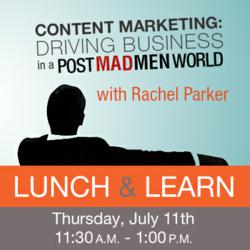 Content marketing helps customers get to know and trust you, so they'll be much more likely to listen to your marketing message.
(PRWEB) June 19, 2013
On Thursday, July 11, Rachel Parker, President of Resonance Content Marketing, will bring her presentation "Content Marketing: Driving Business in a Post–Mad Men World" to the Houston Interactive Marketing Association (HiMA).
"I've been a member for years, so I'm very excited to be presenting to this group," says Parker. "HiMA is a vibrant organization dedicated to helping Houston's online marketing professionals stay ahead of the curve, and it's an honor to be featured on their schedule."
The presentation will cover the reasons why traditional marketing is not connecting with customers like it used to—and why content marketing is the perfect solution for bridging that gap.
"These days, it takes much more than a glossy ad and a slick tagline to attract business," explains Parker. "Customers—both B2B and B2C— want to know you and trust you before they'll even listen to your pitch. Content marketing is an ideal way to build that foundation, while also boosting your SEO mojo."
"Content Marketing: Driving Business in a Post–Mad Men World," will take place on Thursday, July 11, from 11:30 am to 1 pm, at Kirksey Architecture, 6909 Portwest Dr., Houston, TX 77024. To reserve a spot, visit the HiMA website.
About Resonance
Founded in 2010, Houston-based Resonance Content Marketing helps companies attract and retain business through engaging content delivered through social media, e-newsletters, blogs, and other venues. Resonance enhances its clients marketing strategies by developing comprehensive content marketing plans, writing and publishing content on their behalf, and measuring the results to ensure consistent progress.