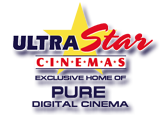 Scottsdale, AZ (PRWEB) June 18, 2013
UltraStar Multi-tainment Center at Ak-Chin Circle and UltraLuxe Cinemas in Scottsdale announce the new release of "My Little Pony Equestria Girls". The 72 minute, rated G film by Hasbro Studios, in conjunction with Shout Factory Kid, is a brand new full-length feature introducing an exciting new dimension to the incredibly popular My Little Pony brand.
When a crown is stolen from the Crystal Empire, Twilight Sparkle pursues the thief into an alternate world where she transforms into a teenage girl who must survive her biggest challenge yet… high school. With help from her new friends who remind her of Ponyville's Applejack, Rarity, Rainbow Dash, Pinkie Pie, and Fluttershy, she embarks upon a quest to find the crown and change the destiny of these two parallel worlds.
The Maricopa and Scottsdale locations will show the film on Saturdays and Sundays at 10am on June 22 and 23; June 29 and 30; July 6 and 7; and July 13 and 14. Movie tickets are $5.
For more information on the movie, visit: http://www.MLPEG.com
About UltraStar Cinemas
UltraStar Cinemas is Southern California's largest privately owned movie theater group. UltraStar Cinemas is headquartered in San Diego County and operates 74 screens at 7 sites throughout Southern California and Arizona. Recognized for pioneering the digital age of cinema, UltraStar was the first theater group in the world to be fully equipped with Pure Digital Cinema® powered by DLP Cinema® technology in all of its locations. In 2009, the company also became the first to offer D-BOX motion seats, which use motion effects specifically programmed for each film to create an immersive experience for movie goers. For more information, visit http://www.ultrastarmovies.com.
About UltraStar Multi-tainment Center at Ak-Chin Circle
The UltraStar Multi-tainment Center at Ak-Chin Circle, an enterprise of the Ak-Chin Community, is operated by California-based UltraStar Cinemas. UltraStar Cinemas is recognized for pioneering the digital age of cinema. They are the first theater group in the world to be fully equipped with Pure Digital Cinema® powered by DLP Cinema® technology in all of their locations. The UltraStar Multi-tainment Center at Ak-Chin Circle features "One stop, non-stop entertainment." Guests experience adventure, competition, entertainment and relaxation all conveniently located under one roof. The Multi-tainment Center features state-of-the-art digital theaters, bowling, dining, sports lounge, live entertainment, laser tag and arcade gaming as well as corporate and private event facilities. 16000 Maricopa Rd. Maricopa, AZ http://www.ultrastarakchin.com
Media contact:
Christine Holtz
Phoenix Marketing Associates
602-282-0202