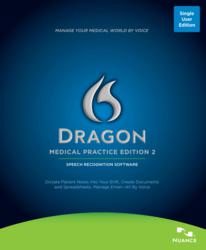 Tom Wilkes, President of Executive Communication Systems says, "Nuance has done it again. Already the world leader in speech recognition technology, Dragon Medical Practice Edition 2 will now work with over 90 medical specialties and is 22% more accurate
Ventura, CA (PRWEB) June 14, 2013
The latest advancement in medical technology hits the market today – Dragon® Medical Practice Edition 2.
Over 180,000 current users of Dragon Medical Practice Edition recognize that it's the most advanced medical voice recognition technology on the market. The advanced functionality of Dragon allows doctors and medical professionals to significantly reduce the time and money spent on transcription.
Dragon Medical Practice Edition 2 helps clinicians, including physicians, nurses, nurse practitioners, physicians assistants, therapists, and other care providers efficiently navigate and dictate medical decision-making and treatment plans directly into a patient's electronic record.
The new Dragon Medical Practice Edition 2 takes their current advanced technology even further, offering the same capabilities as the previous version, along with the following new features:

Ability to use iPhone® or Android® phone as a microphone
22% increased accuracy over the previous version
More specialization – now includes 90 medical specialty vocabularies
Improved Hidden Mode
New Auto-Formatting TAB – Vertebrae
Compatible with Windows® 8
Key Benefits:

Dictate faster and more accurately than ever before
Dictate anywhere in your EHR and accelerate adoption
Dramatically reduce transcription costs
Save clinicians 30 minutes or more a day
Spend more time with patients
Dictate in clinicians own words
Support higher level of reimbursement
Designed and priced especially for smaller practices
99% accurate 'out of the box'
Includes a complete range of medical vocabularies
Tom Wilkes, President of Executive Communication Systems says, "Nuance has done it again. Already the world leader in speech recognition technology, Dragon Medical Practice Edition 2 will now work with over 90 medical specialties and is 22% more accurate than its predecessor."
The new version of Dragon Medical Practice Edition 2 still works great with the same input devices such as digital recorders, PC hand held microphones, etc. Popular digital recorders such as the Philips Pocket Memo 8000 or the Olympus DS 7000 have both been awarded 6 out of 6 Dragons. Also receiving 6 out of 6 Dragons are the Philips LFH-3500 push button or the Philips LFH-3510 slide switch SpeechMike Premium hand held microphones.
Medical professionals who have wanted to get started using this efficient and user friendly speech recognition technology, or looking to upgrade to Dragon Medical Practice Edition 2 will have until the end of June to redeem $100 off at tvps.com.
###
Since 1990 ECS has been providing high quality, dependable dictation/transcription equipment and accessories with in-house service solutions designed to address the needs of our customers. Additionally, integrity isn't just a word for us, it describes how we live our lives and operate our business.