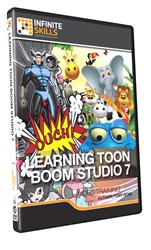 Learn Toon Boom Studio At Your Own Pace
(PRWEB) June 16, 2013
Software training firm InfiniteSkills Inc. last week introduced its "Learning Toon Boom Studio 7 Tutorial," a course designed to teach animation students and hobbyist how to create fun and complex animation with this highly accessible program.
Toon Boom Studio is a product of Toon Boom Animation Studio Inc., a company specializing in animation software that has been used widely in television, web animation, and mobile devices since the mid-1990s. Toon Boom Studio software is targeted for home users and individuals interested in learning beginning-level animation.
InfiniteSkills' Learning Toon Boom Studio 7 Tutorial teaches all the tools and techniques new users need to get started immediately creating animation for web publishing and other personal use.
Learning Toon Boom 7 Video Tutorial
Course author Tony Ross is a professional animator and trainer with over a decade of experience in both fields. He was a leader at the Creative Cow peer support community for designers, and has taught digital design and animation at the college level. He currently operates his own training service.
After introducing Toon Boom Studio's user interface, explaining how to customize workspaces, work with the timeline, and use shortcut keys, Ross dives into animation creation using Toon Boom. He explores all the essential tools and features for drawing, beginning with basic drawing tools, and continuing with the color palette, and how to work with imported files.
Ross then begins with the animation process, explaining how to add movement using frames and keyframes, pivots and rotation, the motion tool, and many more features.
Ross then explores various kinds of animation, taking a close-up look at bone animation, stop motion, scene building, and lip syncing.
"In this video," Ross says, "I teach how to create complex looking animation very simply. Even the most complex tasks can be learned by breaking them down into a series of simple steps."
http://www.infiniteskills.com/training/learning-toon-boom-studio-7.html
InfiniteSkills offers its Learning Toon Boom 7 Training Video either as a DVD or a direct download from the company website at a retail price of $99.95. All InfiniteSkills titles and formats are compatible with Mac and Windows operating systems, and shipping is available around the globe. Additionally, InfiniteSkills tutorials are supported by project files which correspond to examples in the videos, allowing users to work alongside their instructors right on their computer or iPad.
About InfiniteSkills Inc.
A leader in the field of software training, InfiniteSkills strives to offer the highest quality training available at an affordable cost. InfiniteSkills tutorials are task-oriented instructional videos, teaching complex skills by providing hands-on examples and guiding users as they carry out critical objectives. InfiniteSkills offers a comprehensive range of software titles available as DVDs, digital downloads, as well as iPad editions—keeping with company aim of delivering professional training to customers anywhere they want to learn.