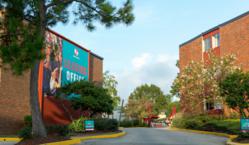 Students at the University of Louisiana at Lafayette will be amazed at the changes that have made University Place look and feel modernized and fresh.
LAFAYETTE, La. (PRWEB) June 14, 2013
A multi-million dollar renovation has completely overhauled University Place, a long-standing student housing community at the University of Louisiana at Lafayette, well-known for being the closest off-campus student apartment option to the University.
The renovations, which were started shortly after University Place was sold to the current owners nearly two years ago, just wrapped up this past semester. Located adjacent to campus and just 300 yards from the main student center, students living at University Place escape the typical area traffic and can get to class in just a short five-minute walk without the hassle of parking or waiting for the Cajun Shuttle.
The renovations included the addition of a 3,000 square-foot clubhouse, offering a relaxing gathering place for residents, with modern furnishings, state-of-the-art fitness center, game room, media lab and a full outdoor pool with brand new contemporary lounge furniture. The community was also given all new roofing, siding and exterior paint, as well as updated landscaping and new outdoor common areas.
Inside University Place, every apartment was upgraded with new flooring in all rooms, updated kitchens and bathrooms, brand new appliances, fixtures, as well as fresh paint with modern accent walls. In addition, much of the HVAC system throughout the property has been replaced to provide the most efficient heating and cooling in every unit.
"Students at the University of Louisiana at Lafayette will be amazed at the changes that have made University Place look and feel modernized and fresh," said Jared Heuer of Realco Capital Partners, the company affiliated with the entity that owns University Place. "Being able to walk to class, rather than drive, not only saves our residents money, but it is also truly a luxury that allows them to spend more time doing what they want instead of commuting to campus. We are also proud to be the only off-campus housing with a direct intranet connection to the University through our partnership with LUS Fiber, which gives our residents lightning fast Internet speed."
Unlike traditional student housing communities, University Place's 192 apartments include only one- and two-bedroom options, catering to students who wish to live on their own or with only one roommate.
"The commute to campus and the challenges of finding parking on-campus are the biggest complaints from students at UL," said University Place Community Manager Tabitha Tate. "Other apartment communities are located a few miles from campus, resulting in a nearly 30-minute commute to class on a typical day. University Place is the only student housing community located just across the street from campus. Residents can literally roll out of bed and be to class within five minutes. That alone is a huge perk, but now with these renovations, we believe University Place is the top choice for off-campus student living."
For more information, visit http://www.liveuplace.com.
About Realco Capital Partners
Realco Capital Partners is a real estate investment and development organization with extensive experience in all facets of real estate investments and development. Since being founded in 1974, the principals of Realco Capital Partners have successfully built, managed, operated and invested in 7,500 apartments, 2,000 condominium units and over one million square feet of office and retail space. Today, the company owns more than 2300 beds of student housing in Alabama, Florida, Louisiana, North Carolina, and Texas and is actively looking for new opportunities in the sector. For more information, please visit http://www.realcocp.com.