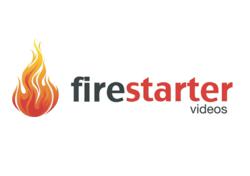 Text on a screen isn't enough. You need to engage your customer if you want to make an impact.
Hollywood, CA (PRWEB) June 18, 2013
Adam Hudson, CEO of Hollywood-based Fire Starter Videos, an animated explainer video production studio, has announced an increase in orders for animated explainer videos.
Hudson says the increase has not been entirely unexpected, and may in fact be part of a growing trend as a result of the continued effectiveness of marketing videos.
"People are watching more videos these days. Text on a screen isn't enough. You need to engage your customer if you want to make an impact. It's not just the average consumer, either. It's executives and CEOs and office managers. Over the last year, our sales have increased dramatically."
Hudson points to Fire Starter Videos' rapid growth as proof. In the last year, the company has expanded its business tremendously, gaining clients in a variety of arenas, including software, real estate, insurance, dietary supplements, charities and other non-profit organizations, among many others. He even reports getting requests for music videos.
"The market is growing. Everyone wants their own viral video. And, thanks to online video services like YouTube and Vimeo, there's a good chance they'll get one. We've spent this last year providing our clients with the highest quality videos money can buy. I think that shows."
Fire Starter Videos is one of the top explainer video companies in the U.S. Fire Starter Videos make all kinds of animated videos from whiteboard animation videos (where you see a hand sketch drawings while a voice narrates) to animated cartoon videos. Their clients include MasterCard, UNICEF, Hayes, the World Bank, and more than 200 companies, governments, schools, and other organizations. They are located at 7083 Hollywood Blvd. To view examples of their work and commission a video, please visit their website at http://www.FireStarterVideos.com or email Adam Hudson at Info[at]FireStarterVideos[dot]com.