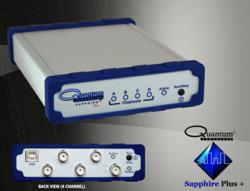 Our Company is proud to be the first to offer wireless technology in the pulse generator industry.
Bozeman, Montana (PRWEB) June 18, 2013
Quantum Composers has released the 9200 Sapphire Plus Series pulse generator, a versatile pulse/digital delay generator that provides precisely defined pulses at repetition rates up to 20Mhz. This unit is cost effective and exceptionally capable, providing solutions to generate and synchronize multiple pulses and triggers for a wide range of applications from simple to complex. This pulse generator will allow users to control their laser, camera or other timing device remotely; it won't be limited to by length of your USB cable. Director of Sales and Marketing, Will Bomar says of the new unit, "Our Company is proud to be the first to offer wireless technology in the pulse generator industry. We can't wait to see what applications will benefit from having the ability to work remotely."
The Sapphire Plus Series Features:

5ns delay and width resolution accuracy
<50ps RMS Jitter
Fast Rise Time, <2ns
1ppm oscillator
Field upgradeable
The Sapphire Plus Series improves on the standard Sapphire Series, offering better performance and more options. The standard Sapphire Series is field upgradeable to the Sapphire Plus, giving customer the added benefit of increased performance or options should their needs change. Quantum Composers states that the new Sapphire Plus timing system will have a period counter; this allows averaging the incoming periods–allowing for better accuracy. The Sapphire Plus adds additional "virtual" channels, effectively doubling the number of channel timers the unit may utilize. One more unique feature is the synchronous update mode, which allows channel width and delays can be adjusted and then updated at once with a single command. The instrument offers a complete set of channel operating modes including continuous, single shot, burst, and duty cycle. These modes combined with external trigger/gate inputs, allows for a full range of complex output waveforms.
About Quantum Composers:
Quantum Composers was founded in 1993 in Bozeman, Montana, an already accelerating high tech center for electro-optic startups. Over the last 20 years, Quantum has become an internationally recognized pioneer in the electro-optics market place with the design and development of a precision pulse generator line and as a provider of custom laser systems for micromachining applications.