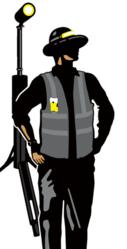 Our professional lighting tools help keep people safe. Come by our booth and we'll help you find the best lights for your needs.
Vista, CA (PRWEB) June 19, 2013
FoxFury Lighting Solutions will exhibit its intrinsically safe lights and portable scene lights at the American Society of Safety Engineers (ASSE) SAFETY 2013 Show for the first time. This SH&E (Safety, Health and Environment) event will attract over 4,000 people and takes place June 24-26 in Las Vegas, NV.
SH&E professionals are tasked with creating safer and more efficient workplaces. Proper training and the use of quality tools certainly helps work get done in a safe and timely manner. When working at night, dependable lighting tools can be the difference between success and disaster. FoxFury offers a line of professional grade LED lights, from personal headlamps and flashlights to area lights, that help keep SH&E professionals and those that they manage safe.
FoxFury will feature the following lights at SAFETY 2013 in booth 686:

Quick deployment area lights and spotlights: portable, rechargeable, self-contained, illuminate a large area and allow free hands at a scene.
Intrinsically safe headlamps: UL 913 certified LED headlamps for use in hazardous locations and around flammable / explosive gases.
Wide angle LED headlamps: offer focused and panoramic lighting. These balanced, wide beam angle headlamps illuminate a larger area and require less neck rotation and strain.
Portable LED spotlights: powerful, narrow beam BT2 and BT3 lights shine far downrange. Ideal for night tasks requiring long distance inspections including searching silos, tunnels and fields.
"Our professional lighting tools help keep people safe. Come by our booth and we'll help you find the best lights for your needs," said Phillip Spencer, Industrial Sales Manager for FoxFury.
SAFETY 2013 runs June 24-26 at the Las Vegas Convention Center (LVCC).
About FoxFury:
FoxFury Lighting Solutions creates unique and cutting edge lighting products that reflect the needs of our customers, who demand quality and dependability. FoxFury is best known for its niche LED headlamps designed for specific markets including Fire, Industrial, Hazardous Area, Law Enforcement, Forensics and Recreational. FoxFury was formed in 2003 and operates out of Vista, CA USA.
About ASSE:
ASSE is a global association of occupational safety professionals representing more than 34,000 members worldwide. The Society is also a visible advocate for SH&E professionals through proactive government affairs at the federal and state levels, and in member-led relationships with key federal safety and health agencies.
About SAFETY 2013:
ASSE attracts an exclusive group of buyers in the Safety, Health & Environmental profession who are looking for realistic solutions to their particular safety needs and challenges. Safety 2013 offers an unprecedented opportunity to meet with an audience covering a wide range of industries, organizations and career levels in a professional atmosphere focused on educating the Safety, Health & Environmental Professional.