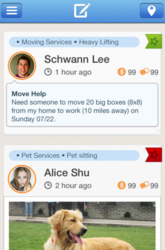 they pre-screen all service and product providers so you don't have to worry about security. And users can leave reviews, so you're able to decide who you want to hire or buy something from
Raleigh, NC (PRWEB) June 14, 2013
Gainko is the only social platform designed specifically for connecting neighbors and local communities by providing them with a marketplace to outsource products and services. The progressive app caught the attention of Newswatch TV and was featured in a broadcast this month.
The app's intuitive design makes it easy to find part time jobs close to home within seconds. Gainko puts safety first, Andrew of Newswatch TV explains "they pre-screen all service and product providers so you don't have to worry about security. And users can leave reviews, so you're able to decide who you want to hire or buy something from." In addition Gainko also requires all users to validate their accounts by connecting to other social networking profiles. Gainko has made it its mission to safely connect communities through technology.
In the tough economic climate, Gainko founders wanted to find a way to connect qualified employees and employers in their area. They took note of the high demand for skilled workers and identified the high quality help that was available within communities to fulfill it. They knew both the supply and demand were there, they just need to figure out how to connect the right people, thus Gainko was born.
Gainko provides users with opportunities to offer their skills or outsource their work to local communities. With Gainko users can also post service deals, search and bid on deals, manage your service needs and bids from a centralized "Management Console", find jobs, post unique job photos and quickly share with your Facebook and Twitter and access a real-time map of small businesses and professionals in your local area.
To view the full broadcast and learn more about Gainko, click here.
About Gainko:
Gainko is a social platform that allows users to outsource products and services within their communities. Gainko provides a convenient marketplace where people can buy and sell services or products, have access to instant human resources everywhere, and convert skills and expertise into valuable financial potential all in their local area.