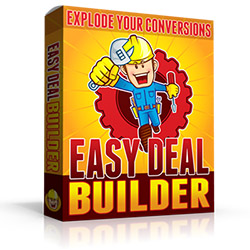 In the past many business owners turned to sites like Groupon, Living Social and other deal sites to create quick deals online. Not anymore...
Minden, NV (PRWEB) June 15, 2013
MemberSpeed announced it had concluded the last round of successful beta tests on its newest web based software, a deal building platform named, Easy Deal Builder, (yet another, in a long line of successful MemberSpeed software solutions for the small/medium business and entrepreneur).
Spokesman and CEO of MemberSpeed Inc. Jeremy Gislason explained, "The new software, (that we designed to easily create high converting, customizable online deal making websites), did far better than expected in all of our final beta tests.
Now, we are proud to announce that it is ready to take on the competition!"
He goes on to explain the reason for its creation, "In the past many business owners turned to sites like Groupon, Living Social & other deal sites, to create quick deals online. This is because until now those types of sites provided two major advantages, almost exclusively, and we felt there needed to be more options."
The first major advantage these sites offer are some of the best examples of expertly coded countdowns, and other psychological and social pressure points, used on the web to exploit the high converting effects of "perceived scarcity".
In testing, the use of scarcity tactics has been shown to "push" as much as three times more would-be tire kickers, into making an online purchase.
The second major recognized advantage these sites provide is "ease of use".
Until now, entrepreneurs found it difficult and time consuming to code deal making websites on their own. Thus small businesses were forced to pay high commissions (usually 50% or more per sale), to every site that hosted their deals.
In short, if you wanted to run a special deal online you either had to invest a lot of time or money.
In recognition of what they felt were outlandish fees charged by deal brokering websites, MemberSpeed Inc. sought to deliver to the online marketing community a better alternative.
Simon Hodgkinson, MemberSpeed's cofounder, goes on to explain, "Our goal was to allow our customers the ability to create as many customized deal brokering websites as they want, without ever having those pesky commissions eat up their profits! Furthermore, we wanted to make something that made putting up and taking down special deals online quicker and more painless than anything those high commission guys are offering!"
When asked, if he feels they have met their objectives, Hodgkinson had this to say, "Unequivocally yes, It's been a long row to hoe, but we finally achieved what we set out to do!
When asked what obstacles stood in their way Simon noted that for them, making websites with high converting sales numbers was not the problem. "We do that all the time!" he said. "However, reverse engineering that process into software that even a newbie could use successfully, required extensive beta testing in the trenches, listening to tons of feedback and many re-designs to perfect.
CEO Gislason, interjects, "We owe a debt of gratitude to our early testers and to our coder, for their patience and secrecy throughout the lengthy beta testing process. We knew in the beginning that it would be an arduous process to create software capable of providing all the deal-brokering tools that professionals wanted, in a package newbies could grasp and use, without any compromises.
However, I think everyone will be pleased that we kept at it, until we got it right."
Gislason and Hodgkinson both agreed that in their many years of making software together, Easy Deal Builder is their hands-down favorite!
Gislason concluded, "There is a huge wide open market for this software right now, people that didn't even know they wanted it, want it, once they understand what it can do! I'm just ecstatic we were able to provide it!
MemberSpeed the makers of "Easy Deal Builder" have been servicing the online marketing community with timely solutions for over ten years. For more information on this software, and its additional features or benefits please visit the Easy Deal Builder's homepage.