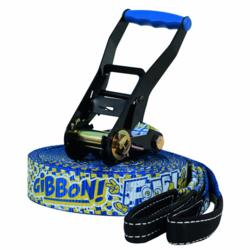 Louisville, Colo. (PRWEB) June 14, 2013
Gibbon Slacklines is pleased to announce that Creative Child Magazine has awarded their Funline slackline the 2013 Kids Product of the Year Award in the Outdoor Adventure Play category. Creative Child is a national publication that provides parents with the leading and latest information on how to nurture their child's creativity. The annual award winners are determined by a panel of parents, educators and professionals who review products in a number of different toy, crafts and games categories.
"Slacklining is a sport that is perfect for children and families," said Emilio Torres, vice president of sales at Gibbon Slacklines. "We are working to introduce even more families to slacklining as a healthy activity they can learn to love together and are thrilled to receive this recognition from Creative Child Magazine."
For those unfamiliar with the sport, slacklining is the act of balancing along a narrow, flexible piece of webbing which is low to the ground and usually anchored between two trees. The Gibbon Funline is the ideal slackline for beginners of all ages as it's less dynamic than other models, making it easier to balance on. The tightly woven webbing increases the stability of the slackline and rubberized print provides added grip. The Funline is easy to set up and take down, making it the perfect activity for the backyard, park and beach.
"Slacklining is a fantastic form of exercise that works core and stabilizer muscles, while honing balance and concentration skills," noted Torres. "For children of all ages, slacklining exercises both body and mind, which promotes self-confidence, awareness and team-building skills."
Slacklining is skyrocketing in popularity as an extreme sport, fitness trend and backyard activity for families thanks to global exposure as a result of the Dew Tour, Madonna's 2012 Super Bowl halftime performance and MDNA tour, NBC's "The Office" and more. Gibbon is rapidly building the sport with their top-level pro team and by hosting competitions across the U.S. Gibbon's easy-to-use equipment makes the sport accessible for anyone, from athletes to families.
To learn more about Gibbon Slacklines, please visit http://www.gibbonslacklines.com/us.
About Gibbon Slacklines USA
Based in Louisville, Colorado, Gibbon Slacklines USA is the exclusive North American distributor for Gibbon Slacklines. Gibbon Slacklines are a fun and accessible way to increase balance, build muscle, and rehabilitate injuries.
Gibbon Slacklines are available at over 3,000 retailers across the U.S. The company holds slacklining competitions across North America and sponsors a group of athletes to travel the country introducing and teaching the sport of slacklining. For more information about Gibbon slacklines or the sport of slacklining, visit http://www.gibbonslacklines.com/us.