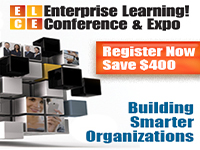 Corona, California (PRWEB) June 13, 2013
The Enterprise Learning! Conference & Expo (ELCE), hosted at the Anaheim Convention Center, August 26-28th, 2013, announced Dr. Paul Ekman, scientific consultant for the TV series, "Lie to Me," and was included in Time magazine's annual list of the "100 most influential people in the world" in 2009, to Keynote at ELCE Tuesday, August 27th, 2013.
Dr. Paul Ekman is the co-discoverer of micro expressions. He has authored or contributed to 15 books on the topic, and is recognized as the pioneer in facial expression, deception and emotion. ELCE attendees can join this Keynote to see the latest tools and techniques to assist their management teams.
In this session titled Lie to Me: The Science of Emotional Skills and Deception, Dr. Ekman will discuss the nine motivations for serious lies, why lies succeed - as well as why and when they fail. Ekman will illustrate the behavioral clues to spotting lies using video examples, and will enable you to see micro expressions of concealed emotions. He will also discuss why and when micros occur, as well as what they do and don't tell you. And finally, he will demonstrate several online interactive training tools that can help you develop skills in this arena.
In its sixth year, ELCE provides attendees a roadmap to Build Smarter Organizations. Executives can access more than 60 educational sessions and six tracks and another 60 sessions and eight tracks from the California HR Conference.
ELCE registration is now open. Save up to $400 by registering before May 31st. To learn more about attending ELCE, visit http://www.elceshow.com. For sponsorship or exhibitor information, contact sales(at)2elearning(dot)com.
About Enterprise Learning! Conference & Expo
In its sixth year, Enterprise Learning! Events bring onsite and online audiences together to learn, network and share. Enterprise Learning! Conference & Expo is the exclusive learning and workplace technology marketplace occurring on August 26-28th, 2013 in Anaheim, CA. ELCE hosts the Best of Elearning! Awards Luncheon and Learning! 100 Award Dinner. The Enterprise Learning! Conference & Expo Virtual edition is slated for October 3rd, 2013. For more information about the Enterprise Learning! Conference & Expo visit http://www.elceshow.com.
About Elearning! Media Group
Elearning! Media Group is owned by B2B Media Group LLC and consists of eleven media products including: Elearning! Magazine, Government Elearning! Magazine, e-magazines, e-mail newsletters, Alerts, Web sites, Web seminars, the Enterprise Learning! Summit and Enterprise Learning! Conference & Expo. Elearning! Media Group serves the $160 billion enterprise learning market. Suppliers and practitioners can follow us: online at http://www.2elearning.com, http://gov.2elearning.com; on Twitter: @2elearning, #ELCE13, #ELSummit; via Facebook: Elearning!-Magazine or LinkedIn: Elearning! Magazine Network or Enterprise Learning! Events.