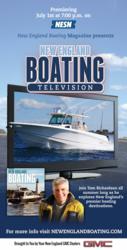 The show is a blend of entertaining travelogue and informative boating guide- Gene Allen (Producer/Director)
Boston, MA (PRWEB) June 14, 2013
Lighthouse Media Solutions today announced the launch of a new recreational boating-based destination-rich television series to air Monday evenings at 7:00 p.m. on New England Sports Network (NESN). The show debuts July 1, 2013.
New England Boating TV, sponsored by GMC Trucks and Boston Whaler in concert with their New England network of dealers, explores the region's ports, bays, harbors and lakes, and provides viewers with useful boating information and interesting things to do. The show, produced and directed by Eugene Allen, focuses on one boating destination each week. "The show is a blend of entertaining travelogue and informative boating guide," explains Allen. "It appeals to all types of boaters, from fishermen to sailors, paddlers to cruisers."
Each episode of New England Boating delivers advice from local experts on a variety of topics, including good places to fish, kayak, water ski, fuel up, grab a mooring or slip, or simply drop anchor and hit the beach. Viewers will also get historical background on each locale, as well as the scoop on restaurants, shops and attractions.
"The show's co-hosts, Parker Kelley and Tom Richardson, are not only lifelong boaters themselves, but also seasoned journalists in the television and magazine industries," says Allen. "We're really excited to have them onboard, and I know the audience will love their unique personalities and perspectives on these amazing places."
This new, action-packed show is loaded with information. It perfectly complements Lighthouse Media Solutions' New England Boating magazine, as well as their popular, content-rich website NewEnglandBoating.com. Richardson serves as the editor of both the magazine and the website.
Episodes for 2013 will feature 13 destinations, including: Mattapoisett, Massachusetts; Camden, Maine; Essex, Connecticut; Wickford, Rhode Island; Lake Champlain, Vermont; and Lake Winnipesaukee, New Hampshire.