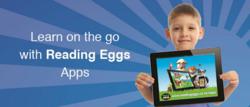 Reading Eggs utilizes the motivational qualities of mobile devices to foster effective early learning.
Dallas, TX (PRWEB) June 19, 2013
Reading Eggs, creator of the popular online reading program of the same name, is leading a new wave of educational apps designed to harness the power of mobile tablet devices – combining sound educational instruction with highly motivational elements that make learning highly effective for young children.
Available for Apple and Android devices, the range of Reading Eggs apps are designed to make the most of the highly motivational multisensory features of mobile devices that studies show enhance children's learning.
Appealing to young children's natural inclination to touch, play and move objects around with their hands, the Reading Eggs apps take advantage of the intuitive hands on interactivity of mobile tablet devices, utilizing the 'tap' and 'touch and drag' functions that make apps highly engaging for young children. The apps also feature vibrant animation and visuals, catchy songs and playful sound effects to enhance motivation.
There are currently seven Reading Eggs apps available for download from iTunes. Literacy apps for children aged 3+ include Eggy Alphabet, Eggy Words 250, Eggy Nursery Rhymes, and Tap the Cat. For children aged 6-12 the Reading Eggs Spelling series helps develop and support the literacy skills learned in school. Reading Eggs' first math app, Eggy Numbers 1 to 10, is designed for children aged 3+ who are just starting out with math.
Free apps include Eggy Words 100 and Reading Eggs Spelling Lite, which sample content from the paid versions.
Eggy Phonics 1, the latest app released by Reading Eggs for the iPad and iPhone in June 2013, is the first in a series of 3 apps that that make phonics fun and motivational for young children. Designed for ages 3+, Eggy Phonics 1 teaches children to read, spell and write 100 short vowel words that make up a large part of early reading.
Eggy Phonics 1 is available to download from iTunes for $2.99
View the full range of Reading Eggs apps at http://www.readingeggs.com/apps.
About Reading Eggs
Developed by educators with over 25 years of experience, Reading Eggs online lessons instruct children in the five areas crucial to literacy development – phonemic awareness, phonics, vocabulary, fluency and comprehension. Reading Eggs focuses on a core reading curriculum of skills and strategies essential for sustained reading success and is suitable for children aged 3 through 13. Since launching in the United States and Canada in 2011, Reading Eggs has signed on more than 500,000 subscribers and presented more than 15 million lessons in North America. For more information visit ReadingEggs.com.