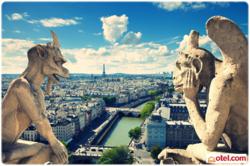 We, as Otel.com have been making a list of the best hotels in Paris and we have decided to announce the top two hotels with our special prices
(PRWEB) June 14, 2013
Paris is the capital city of France, located along the popular Seine River. It is preferred by tourists especially during the summer. Otel.com provides many hotels in Paris with varying prices. This month it attracts attention that Otel.com has announced its special offers in Paris. People, who are willing to visit the capital of love and romanticism, check the special rates on the website.
There are many things to do and to see in Paris. The architecture in Paris attracts thousands of tourists each year; some of the examples of popular buildings are Eiffel Tower, Notre-Dame Cathedral, Palace of Versailles, Arc de Triomphe, Opera Garnier, Pantheon and Sacre Coeur. Gastronomy is also important in the city, so there are many restaurants competing with each other for more delicious food options.
"There are lovers, honeymooners, older couples and families in Paris. One can find here almost everything a city can offer to various travellers. The Disneyland is here for the families with children, the Eiffel Tower is for young romantic couples, museums are for art lovers; basically, there is everything. We, as Otel.com have been making a list of the best hotels in Paris and we have decided to announce the top two hotels with our special prices", says Metin Altun, the CEO of Otel.com. There are both expensive luxury hotels and cheap Paris hotels on their list; however they are recommending the two of them with a special discount.
"Classics Bastille Hotel is, for instance, a three-star hotel in Paris. It is close to many attractions and the city centre. The hotel facilities are also beyond expectations. Our other offer is Classic Porte De Versailles Hotel. This hotel also features elegant rooms with a good location near the city centre. Most of all, it is more important that people do not have to pay big prices for these two hotels if they prefer Otel.com," says Metin Altun.
About Otel.com
Otel.com is a branch of Met Global, the global tourism company. Otel.com features over 250,000 hotels all over the world, offering more than 20 languages within its system. The monthly offers and Paris city hotels can be found on the website of the company, http://www.otel.com/