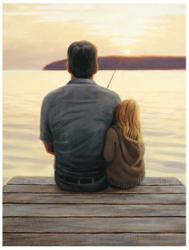 This year, let Father's day be a day of relaxation and no pressures.
San Francisco, Ca (PRWEB) June 14, 2013
Father's Day, on Sunday, June 16, is the best time to help Dad get that night's sleep he deserves. Purchasing an organic futon by calling in or coming into one of the many retailer shops all around Northern California is recommended by http://www.thefutonshop.com/locations.aspx.
Umberto Eco reminds us to appreciate our Father's with his beautiful words of wisdom: "I believe that what we become depends on what our fathers teach us at odd moments, when they aren't trying to teach us. We are formed by little scraps of wisdom." This quote goes out to all Father's but especially to all the new Father's learning so much the first years with their children. Eco reminds Father's and all parents to not put so much pressure on themselves and take a step back this Father's day to remember all the beauty of parenthood and how important their love and support for their children is.
As a parent, especially a new Father, there are many pressures that come with such a title. According to an Ohio State Study, researchers found a correlation between people who feel pressure to be perfect parents may actually undermine their own intentions.
Father's who worry about their family and children, as well as new Father's who lack sleep the very first year can really appreciate and need a good mattress to sleep on. This year, let Father's day be a day of relaxation and no pressures. Father's worry about providing and protecting the family, but this one special day let him unwind and take it easy on a new organic spring Futon mattress.
Surprise Dad with One of The Futon Shop's organic mattresses. There are over 33 futon mattresses to choose from, with organic ingredients ranging from spring, foam, wool and cotton.
To Order just go to http//http://www.thefutonshop.com or call 1 800-443-8866
About The Futon Shop®
The Futon Shop is a vertically integrated retailer that manufactures over 33 organic and green futon mattresses from start to finish. The company dates back to 1976 led by Suzanne Diamond and her team of specialists dedicated to produce the best eco-friendly furniture and bedding. Their mission is to provide the best eco-friendly/chemical-free Organic and Green furniture for American families available today