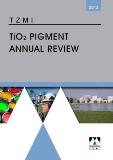 The TiO2 pigment industry experienced a substantial downturn in 2012, as customers de-stocked and pigment producers curtailed production in the face of weakened demand.
(PRWEB) June 19, 2013
TZ Minerals International (TZMI) is pleased to announce the release of the fourth edition of the TiO2 Pigment Annual Review which is dedicated to the US$16.2 billion global titanium dioxide pigment market, which has experienced varying dynamics since the first edition was published by TZMI.
The TiO2 pigment industry experienced a substantial downturn in 2012, as customers de-stocked and pigment producers curtailed production in the face of weakened demand. However, there are positive signs emerging and TZMI expects the industry to start to improve in the second half of 2013 and enter recovery during 2014.
The TiO2 industry responded to the onset of the Global Financial Crisis by shutting down capacity and drawing down inventory to conserve cash. With a gradual recovery in demand during the second quarter of 2009, a gap between available supply and demand began to emerge. By 2010, the fortunes of the pigment industry were enjoying a vast turnaround. This continued into 2011, during which time inventories fell to historic lows and pricing power returned to suppliers as consumers scrambled to secure supply. A spate of price increases that started late in 2010 continued throughout 2011 and into the following year, before dropping sharply as demand slowed towards the end of the 2012. This slowdown reflected industry efforts to work through a massive build-up of inventory, with demand recovery not expected until the second half of 2013.
TiO2 pigment is used predominantly in the production of high-quality surface finishes to impart opacity, brightness, and whiteness. TiO2's main attribute is to improve the aesthetic appearance of the product and, as such, TiO2 is considered to be a quality of life product and consumption generally increases as disposable income increases.
In 2012, seven global producers made up more than 56% of the global nameplate capacity: DuPont, Cristal Global, Tronox, Huntsman, Kronos Sachtleben and Ishihara Sangyo Kaisha (ISK). DuPont and Tronox operate only chloride route plants, the other global producers operate plants that use both sulfate and chloride route technologies. China continues to increase capacity and in 2012 accounted for 34% of global capacity
The principal product of the mineral sands industry is titanium raw minerals used as feedstock for the production of primarily, (TiO2) pigment and, to a lesser extent, titanium metal.
Of the TiO2 feedstock mined and processed, more than 90% is used in the chloride and sulfate methods of TiO2 pigment production.
The TiO2 Pigment Annual Review 2013 provides up-to-date commentary and independent analysis of the TiO2 sector including producers, end-consumers, and supply and demand scenarios, as well as an outlook for coming years.
The information contained in TiO2 Pigment Annual Review 2013 is carefully researched drawing on TZMI's extensive database. It is also an essential reference for the industry while identifying key trends and developments within the sector and the broader impact on a global scale.
TZMI also produces other publications that address the TiO2 pigment industry including: Global TiO2 Pigment Producers Cost & Profitability Study; TiO2 Pigment Industry Report, produced quarterly with monthly data reports; and TiO2 Pigment Price Forecast, which is published quarterly.
This publication is a significant resource for participants in the TiO2 sector and extends to those in the mineral sands industry in general. It is suitable for those wanting to maintain an in depth understanding of the sector, including:

Pigment producers
End-consumers (paint and coatings, paper, chemicals and others)
Mineral sands industry participants
New entrants to the industry
Financial industry (Fund managers, hedge funds, investors and potential investors)
Orders for TiO2 Pigment Annual Review 2013 are now being taken by TZMI. For more information please visit http://www.tzmi.com or call +61 8 9359 6000.
About TZMI
TZ Minerals International (TZMI) is a global, independent consulting and publishing company with offices in Australia, China, the US and South Africa. The strength of TZMI's consulting services stems from extensive practical experience in the mineral sands, titanium dioxide and coatings industries and from a comprehensive database, which has been built up over many years.
TZMI has proven expertise gained from our consultants having many years of direct operating experience in the industry in chief executive, senior operational, analytical and marketing roles.
TZMI's publications and data services support the consulting activities and ensure up-to-date, high quality and comprehensive data, analysis and information across the mineral sands, zircon and TiO2 pigment industries.
TZMI provides operational and technical expert advice on many areas including:
Mergers and Acquisitions
Market Assessments and industry analysis
Due diligence
Pre-feasibility studies incl. preliminary capital and operating cost estimation
Competitive cost analysis and benchmarking
Technical reviews and audits
Resource assessments
Physical separation test work
Flowsheet development
Customised data analysis and reporting
FURTHER INFORMATION
Tracey Kelly – Business Development and Marketing Manager
TZ Minerals International
E: tracey.kelly(at)tzmi(dot)com P: +61 8 9359 6000