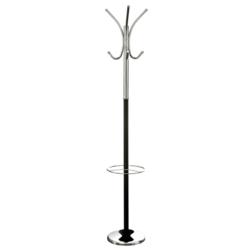 (PRWEB UK) 20 June 2013
A coat stand is an essential piece of hall furniture as it not only serves the purpose of hanging coats but can also add a style statement to a home. Places to hang coats are usually never given the importance they deserve and are kept away from the public eye. But with the elegant designer collection of coat stands offered by FurnitureInFashion, the hallway can look much more welcoming and interesting. The owner of FurnitureInFashion, Asad Shamim said," After offering unique and practical furniture for bedrooms, living rooms and dining rooms, we are now even more excited about adding hall furniture to our product line."
Coat stands are an important if under-rated addition to your home, as they prevent untidiness, provide convenience and in the best of cases look stylish. In the absence of a coat stand, guests usually throw their coats onto the backs of chairs. This is both rude and untidy. A coat stand of course cannot only be used to hang coats but also hats, jackets and umbrellas too. FurnitureInFashion has a broad range of coat stands available in multiple colors, designs and materials. The company has a large collection of wooden coat stands, metal coat stands and swirl coat stands.
These coat stands are manufactured with typical German attention to detail and are extremely hard wearing. Keeping in mind the limited space available in hallways, FurnitureInFashion offers slim coat stands: these coat stands take-up a minimum of space in the hallway, making them an ideal addition to any apartment or the smaller home. The owner of FurnitureInFashion said," Coat stands are underrated: given good design and attention to quality in the manufacturing process they can really add the finishing touch to your home's entrance."
Coat stands at FurnitureInFashion are usually available in modern designs with lots of additional features: the swirl coat stand is an excellent addition to any home. Mr. Shamin said, "Over the past few years, the demand for modern quality furniture has increased. We are working on not only to provide luxurious furniture but also contemporary home accessories, that can be extremely functional. Coat stands are one such example."
FurnitureInFashion also offers coat racks, umbrella stands, hallway storage and shoe cabinets. German manufacturing makes these items very hard wearing: they have an extended life. Asad Shamim said that FurnitureInFashion has grown into an international manufacturer and distributor of thousands of different designs of furniture for living rooms, dining rooms, bathrooms and bedrooms. The company's economies of scale give it an edge over other online retailers in the industry.
Every piece of furniture design offered by FurnitureInFashion has some unique feature making it a wise investment. With every season, new products are launched leading the way in new trends. This has increased the product collection at FurnitureInFashion, making them the largest online retail store in the UK. FurnitureInFashion, its fantastic delivery service, unique designs and keen prices is unbeatable. As their business expanded, they have increased their facilities as well. This has allowed the company to really live up to its name. For additional information and to learn more about FurnitureInFashion's extensive range of products, visit http://www.furnitureinfashion.net. The company is committed to bringing stylish living to everyone!
To have a look at quality affordable hallway furniture online, and to place a pre-stock order, please visit the company website today at http://www.furnitureinfashion.net. The range of hallway furniture on the website is huge, delivery is fast, savings are massive, and quality is guaranteed.
About FurnitureInFashion
FurnitureInFashion is a UK-based online retail business. It supplies furniture items from its German-based warehouse and has a showroom in Bolton, UK. The company provides everything from umbrella stands, wall art and room dividers, to bedroom suites, bar stools, and computer tables. FurnitureInFashion offers free delivery within UK and is rightly proud of its excellent customer service. For further information and details about sales, please visit http://www.furnitureinfashion.net.