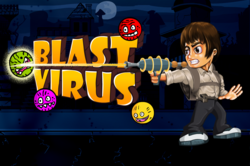 Virus is Contagious, It must be Killed
(PRWEB) June 14, 2013
The team at Dev IT Solutions is extensively working towards enhancing the technology to provide best in class Mobile Gaming Applications for various platforms like iPhone, iPad & Android. The company also plans to launch all its Mobile Gaming Apps on platforms like Blackberry, Symbian & Windows. So far the company has mostly developed and launched Educational Mobile Applications but the company is now planning to develop and launch Mobile Gaming and Utility Applications for platforms like iPhone, iPad, Android, Blackberry and Windows.
"Blast Virus" is an amazing Mobile Gaming App developed for kids and adults. This game is based on the classic blast game known as Virus Struggle. The objective is to help kids and adults to increase concentration power along with having lots of fun. It is an engaging and interesting game which will keep the users engaged for hours at a time. To move to higher levels, the user needs to burst the viruses by firing the weapon from underneath it and without being touched by any of the viruses. Once a virus is burst, it breaks into 2 smaller parts and the user needs to again burst these smaller parts to kill the virus. This interesting app also has some additional power-ups which can be used along the way.
Below mentioned are a few additional power-ups given in this gaming app for iPhone.
1. Solid Wall Weapon
2. Multiply Score * 3
3. Increase Time Limit Of A Level.
4. Extra Life
5. Sonic Weapons
6. Decrease Speed Of The Virus
7. Horizontal Ground Lasers
During a recent press conference, a senior spokesperson from the company said, "We are proud to announce the launch of these unique and innovative mobile gaming apps for iOS & Android platforms. This amazing Mobile Gaming App will help kids and adults to increase concentration power and also keep them engaged for hours at a time. For now this gaming app will be launched only for iPhone but soon we will also launch it on other platforms such as iPad, Android, Blackberry and Windows.
For more information, please visit http://www.devitsolutions.com/devitmobileapplication/
About Dev IT Solutions:
Dev IT Solutions is one of the leading companies providing cutting-edge solutions for Mobile Application Development on various platforms. It has a dedicated team for Development of Mobile Applications i.e. iPhone Application Development, Android Application Development, Blackberry Application Development and Window Mobile Application Development.
Contact:
Dev IT Solutions Pvt. Ltd.
A-302, Shapth Hexa, Opp. High Court
S.G. Highway, Sola
380060
Phone(US): 1-760-621-3474
Email: parth(at)devitsolutions(dot)com
iPhone, iPad are trademarks of Apple Inc., Android is a trademark of Google Inc., Blackberry is a trademark of RIM Inc., Windows is a trademark of Microsoft Inc.