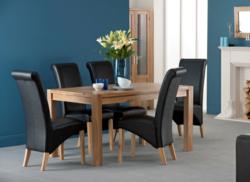 (PRWEB UK) 30 June 2013
FurnitureInFashion announces its newest range of contemporary furniture, designed with an eye on both intrinsic appeal adding to the value of your home when you come to sell it.
FurnitureInFashion is well known for providing quality modern furniture over a huge range of styles and looks, but did you realize that such furniture can also add to the value of your home?
FurnitureInFashion has added to this opportunity by taking advantage of market conditions to provide an even larger furniture and accessories catalogue at hugely reduced prices. The company maintains a splendid catalogue which offers an extensive range of contemporary designs, colors and styles in every contemporary furniture style. The owner and Managing Director of FurnitureInFashion, Asad Shamim said, "As the economy continues to struggles, FurnitureInFashion is still taking advantage of the robust market for the latest trends in contemporary furniture. Consumers continue to raise the bar and only the strongest companies can meet the challenges of demand and expectations. FurnitureInFashion has been successful in adjusting to the budgets of consumers and their expectations. Our contemporary furniture catalogue is witnessing increased sales and demand. I believe a proportion of this increase is down to people realizing that quality furniture can actually add monetary value to a home."
Modern contemporary furniture is by far the hottest interior design trend this year. With contemporary practically, understated stylishness and affordable pricing, contemporary furniture is on every design (and cost) conscious shopper's wish list. The aesthetics and versatility of contemporary furniture is what makes FurnitureInFashion so appealing to customers seeking to revamp their homes.
The contemporary furniture and fittings at FurnitureInFashion work well in the dining room, bedroom, living room, office and bathroom. FurnitureInFashion is at the forefront of providing contemporary furniture and is dedicated to providing this year's hottest contemporary furniture designs at the cheapest prices possible. The company has an extensive range of fashionable contemporary furniture, accessories and art for practically every room in the house and for outdoor living too. Mr. Shamim said, "FurnitureInFashion provides the latest in premier contemporary home furnishing to its customers around the world. With a recently revamped customer service team, new partnerships with furniture manufacturers and lower prices on thousands of home furnishings, the company is poised for even further growth. We have already witnessed growth of 35% in the first six months of 2013 as compared to last year."
FurnitureInFashion supplies the latest contemporary furniture with attention firmly fixed on style, functionality and affordable prices. Contemporary furniture can meet the functional demands of each room in every home while still being chic and stylish from top to bottom. FurnitureInFashion has an extensive range of handpicked contemporary bedroom furniture from contemporary canopy beds to low profile leather beds. These contemporary beds provide functionality with contemporary style. The living room and dining room are the key areas for a family, FurnitureInFashion offers the most up-to-date designs in sofas, tables, loveseats, TV stands, bar stools, chaises, wall art and recliners. These designs have propelled contemporary furniture into the limelight of interior design trends. The versatility of contemporary furniture at FurnitureInFashion extends into office and outdoor settings with hutches, disguised filing cabinets, dining tables, desks and chairs. Each one of these items has a contemporary edge and fashionable design.
FurnitureInFashion also offers exclusive discounts on all these items along with free shipping in the UK. The customer service team is on standby to answer any questions: they have already played a major role in winning the confidence of consumers. Consumers can also interact with the company through Twitter, Facebook and LinkedIn. The company has also launched a YouTube channel with new videos on contemporary furniture uploaded every week.
About FurnitureInFashion
FurnitureInFashion is a UK based online retail shop with a manufacturing plant based in Germany. The company directly supplies furniture products from its German based warehouse. It supplies over 7,000 furniture products for living rooms, dining rooms, bedrooms, hallways, bathrooms, kitchens, bars and offices. For further information and details visit: http://www.furnitureinfashion.net