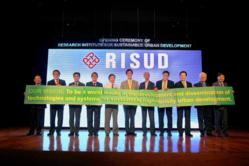 The establishment of the Institute aptly demonstrates the University's dedication to making sustainable development a strategic priority
(PRWEB) June 14, 2013
In response to the massive urbanization process in China, The Hong Kong Polytechnic University (PolyU) has established the Research Institute for Sustainable Urban Development (RISUD) to address the issue of urban sustainability. The Inauguration Ceremony for the institute was held today (14 June 2013) on the university campus.
Joining the ceremony were Guests of Honour Dr Qiu Baoxing, Vice Minister of the Central Government's Ministry of Housing and Urban-Rural Development, who has made a special trip to attend this event; and Mr Wong Kam-sing, Secretary for the Environment of the Hong Kong SAR Government. Together with PolyU President Professor Timothy W. Tong, Dr Andrew Chan ka-ching, Chairman of International Advisory Committee of RISUD, and RISUD Director Professor Jin-guang Teng, they witnessed the inauguration of RISUD. PolyU Council Chairman Ms Marjorie Yang also extended her congratulations through a video message.
In his welcoming address, Professor Tong said the RISUD was established with a view to creating sustainable solutions to problems generated by high-density urban development. He said, "The establishment of the Institute aptly demonstrates the University's dedication to making sustainable development a strategic priority."
Speaking at the ceremony, Mr Wong Kam-sing said the HKSAR Government is committed to developing Hong Kong into a green, quality-living and sustainable city. Mr Wong also briefly introduced "A Clean Air Plan for Hong Kong" and "Hong Kong: Blueprint for Sustainable Use of Resources" as well as Environmental Bureau's work on nature conservation in his speech.
On this auspicious occasion, Vice Minister Dr Qiu Baoxing also gave a keynote speech on the topic of "Challenges of Urbanization in China" to a full house of audience at the University's Chiang Chen Studio Theatre.
Led by Director Professor Jin-guang Teng (who is also Dean of the Faculty of Construction and Environment) and Associate Director Professor Xiang-dong Li, the RISUD is organized into five Divisions: (1) Urban Planning and Management, (2) Urban Infrastructure, (3) Urban Environment, (4) Digital Technology in Urban Development, and (5) Building Energy and Environmental Performance.
The RISUD further includes 26 research groups, each of which is led by an internationally recognized scholar in his field. Through research and knowledge transfer activities, consultancy services and professional training, the RISUD is committed to multi-disciplinary collaborations to address major urban planning and environmental issues. Putting research findings into practice by transferring the technologies that have been developed, it will enhance Hong Kong's competitiveness as well as China's socio-economic development.
The Inauguration Ceremony was followed by a series of workshops covering the topics of Building Energy Efficiency, Life-cycle Performance of Concrete Structures, Sustainable Urban Renewal in High-Density Cities, Regional Air Quality – Linking Science to Policy, and Sustainable Waste Management – Recycling of Waste.