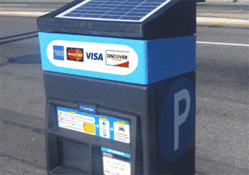 if incomes can be raised by 15% per machine then councils could look at reducing parking fees which could in turn help bring much needed custom back to the UK high street
(PRWEB UK) 14 June 2013
Recently published news in the L.A Times [3rd June 2013] claims the city parking department made more income from credit and debit cards in March than it did in cash showing that it is becoming a more convenient way for the public to pay and the once popular quarters are no longer rulers of the parking meters.
According to the article the parking meters card payments brought in a totalled $2.34 million, more than half of the $4.46 million total collected that month. Smart meters, which were installed in December 2012 by the transportation officials, have become more convenient for drivers and employees, saving time from rummaging for coins in purses, pockets and cup holders.
David Mitchell, a senior engineer who heads the City's parking meter commented that many drivers started to pay by card as soon as the credit card meters appeared. He added that "they find it more convenient" and "so do we". More than 99 per cent of the meters are working at any given time, which means a 10-15 per cent bump from the earlier coin meters.
Whether there is a street parking, or a meter that takes cards, can now be a deciding factor on where to go out with friends as one would not want the struggle of finding coins. It is also easier to swipe a card than inserting the coins into the meter one by one. Most people use coins in area where parking is cheaper by the hour.
Also according to David Mitchell the credit card companies provide the parking meters with the same encryption and fraud protection service as other devices so if a card is stolen you will not suffer any financial breach.
A compareandsave.com spokeswoman commented:
"This is a yet another example of people rapidly switching to plastic as soon as the opportunity presents itself. Obviously some local council's in the UK already offer credit card payments, but those who don't will no doubt find these finding very interesting. Obviously if incomes can be raised by 15% per machine then councils could look at reducing parking fees which could in turn help bring much needed custom back to the UK high street."
________________
compareandsave.com is one of the UK's leading personal finance comparison websites. Based in Colchester, Essex, compareandsave.com has been helping UK consumers get a better deal on credit cards, savings accounts, personal loans and more for over five years.