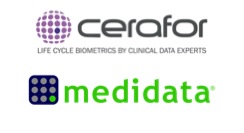 Medidata's platform enables Cerafor to provide lifecycle biometrics across our clients' development portfolios.
(PRWEB UK) 17 June 2013
Cerafor, a specialist biometrics company, today announced that it is implementing Medidata as its Electronic Data Capture (EDC) solution. After an extensive review and selection process, Medidata's cutting edge platform was chosen for its advanced capabilities, flexibility and widespread user appeal. Cerafor's Data Management team has already extensively used Medidata Rave, facilitating easier integration into Cerafor's processes.
Medidata Rave enables Cerafor to offer its biopharmaceutical customers a single platform supporting both EDC and clinical data management system functionality to meet the most rigorous trial requirements, providing remote access to data and reports in real-time and offering the ability to clean and lock data more rapidly. Medidata's other technologies, including randomisation, trial supply and coding solutions, integrate with Rave to provide Cerafor's clients access to one comprehensive clinical platform.
Cerafor has joined Medidata's CRO partner program, with the aim of providing an enhanced level of service and value for its clients. Cerafor is working towards accreditation, a formal recognition of best practice and experience in implementing the Medidata platform, in order to deliver optimal results and reach new levels of quality and efficiency in clinical studies.
"Medidata's integrated suite of software tools and our shared customer base will mean Cerafor can provide lifecycle biometrics across our clients' development portfolios" said Leanne Silk, Cerafor's Global Head of Data Management. "Our experience of using Medidata's platform has been very positive, and the partnership and accreditation process will further enhance the benefits for our clients."
About Cerafor:
Cerafor is a specialist biometrics company providing data management, biostatistics, medical writing, pharmacovigilance and consulting services to pharmaceutical and biotechnology companies and CROs.
Based in the UK, Cerafor services clients globally with an emphasis on expert and knowledge-driven biometrics and a focus on providing cost-effective, solutions and services.