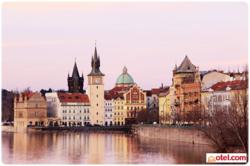 Summer has come, and it can be hard to find accommodation this time of the year. We have made some arrangements and prepared a list of still-vacant rooms in Prague for our visitors
(PRWEB) June 16, 2013
The largest city of the Czech Republic is located along the Vltava River. It has a long history and a historical atmosphere still. Also, it is a compact city, holding almost everything close together. Thousands of tourists get around the city to explore the culture and lifestyle of Prague.
The city has a lot to offer to all its visitors year round. People can enjoy Prague's Ball Season during all winter; it hosts the activities such as waltz dances in many venues; one of which is famous Marble Hall at Lucerna Palace. During the spring, people enjoy the film festivals and have the advantage to watch some popular movies way beforehand. Also, for those who are interested in history and architecture, the largest ancient palace is in Prague. Other landmarks of the city include the St. Vitus' Cathedral, St. George's Basilica, Old Royal Palace, Queen Anne's Summer Palace and Vladislav Hall.
"These landmarks and activities are all in the old city. It is important to book a hotel in the city centre. Prague is a very popular tourist destination and we have a serious number of visitors booking for Prague hotels. On Otel.com one can find many types of hotels in Prague. We offer great deals on beach hotels in Prague. There are also cheap Prague hotels in very good locations. We, as an Otel.com team, arranged a monthly deal program for Prague hotels", says Otel.com CEO Metin Altun.
As he continues, he mentions many hotels in the city, which they offer deals for summer holidays. "Summer has come, and it can be hard to find accommodation this time of the year. We have made some arrangements and prepared a list of still-vacant rooms in Prague for our visitors," Metin Altun says. He mentions many popular hotels in Prague. Some of them are U Krale Karla Hotel and Boscolo Prague Autograph Collection Hotel. The baroque building dates back to 1639 and is situated in the vicinity of the Prague Castle. The rooms are in historic style and also have every modern amenity people may need.
About Otel.com
Otel.com is an international travelling website offering about 250,000 hotels in around 200 countries. It is a branch of Met Global, a global tourism company providing service within its many offices all over the world. The monthly deals and offers can be seen on the website of the company; http://www.otel.com.