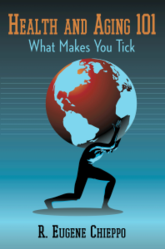 Learning 'what makes you tick,' the author writes, can help people open themselves up to happiness.
Norman, AR. (PRWEB) June 17, 2013
Good health – a trait many people seek – is within reach if people understand the relationship between their conscious and unconscious minds. That's the theory put forward by the author of a new book focusing on health and aging. R. Eugene Chieppo notes that the main difference between the conscious and subconscious selves is that the subconscious would prefer things to remain the same even as the conscious works to improve life.
By promoting understanding of the relationship between the different aspects of the mind and body, "Health and Aging 101: What Makes You Tick" aims to guide others to eliminate things related to mental anguish such as anxiety, obesity, depression, and smoking and other addictions. Learning "what makes you tick," the author writes, can help people open themselves up to happiness. Chieppo shares his own experience with successfully quitting smoking in 1965 when he rediscovered the book "Solar Plexus of the Abdominal Brain," which talked about more than one type of brain. Applying those lessons of mind over matter this time helped Chieppo to stop smoking within two weeks.
Put in its simplest terms, the "conscious self is the resident caretaker of the body," the author writes. As such, the conscious self may possess knowledge of how the body functions but most caretakers fail, leading to illness in mind and body. Chieppo urges readers to question conventional treatment and prevention espoused by agencies such as the FDA, AMA as they seem to focus on managing symptoms without promoting prevention. Chapters on aging, eating for better health, supplements and positive expectations further promote Chieppo's vision of people taking charge of their own health and extending their lives through a deeper understanding of the mind-body connection.
For additional information, please visit http://www.wmytick.com.
Health and Aging 101: What Makes You Tick
R. Eugene Chieppo
Dog Ear Publishing
ISBN: 978-1-4575-1870-6
172 pages
$14.50 US
Available at Ingram, Amazon.com, Barnes & Noble and fine bookstores everywhere.
About Dog Ear Publishing, LLC
Dog Ear Publishing offers completely customized self-publishing services for independent authors. We provide cost-effective, fast, and highly profitable services to publish and distribute independently published books. Our book publishing and distribution services reach worldwide. Dog Ear authors retain all rights and complete creative control throughout the entire self-publishing process. Self-publishing services are available globally at http://www.dogearpublishing.net
and from our offices in Indianapolis.
Dog Ear Publishing – self-publishing that actually makes sense.