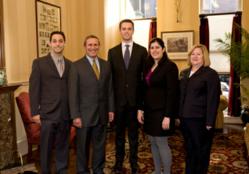 (PRWEB) June 16, 2013
The Law Firm of Pozzuolo Rodden, P.C., Philadelphia Estate Planning Attorneys, announces the upcoming Penn State seminar titled: "The Basics of Estate Tax Planning After The American Taxpayer Relief Act of 2012" on Thursday, June 20, 2013. If you would like to read more of what the seminar will cover, please read the full description on the Pozzuolo Rodden, PC web site under Seminars: http://www.pozzuolo.com
The Basics of Estate Tax Planning After The American Taxpayer Relief Act of 2012
By: Joseph R. Pozzuolo, Esquire and Jeffrey S. Pozzuolo, Esquire
Pozzuolo Rodden, P.C.
Where: Penn State University Cooperative Extension
Neshaminy Manor Center
1282 Almshouse Rd
Doylestown, PA 18901-2896
When:
Thursday, June 20th -12:30p - 1:00p Registration, check-in
1:00p - 5:00p
Course Description and Learner Objectives:
To provide attorneys, CPA's and life underwriters, general and new practitioners, with the basic, fundamental tools and strategies to serve their clients in trust and estate planning strategies to effectively plan their clients' estates after The American Tax Payer Relief Act of 2012. This practical program is designed to teach you how to use and draft fundamental estate planning documents, provide a general overview of federal and estate death taxes and discuss the ethical issues surrounding estate planning.
Estate Planning:
The Reasons For Estate Planning: (1) Welfare And Security Of One's Family After Death; (2)Estate And Gift Taxes; (3) Various Documents Such As Wills, Trust Agreements, Buy-Sell Agreements And The Like; (4) Areas Of Knowledge Of Estate Planning; (5) Initial Advice To Client; (6) Checklist For Gathering Client Information; (7) Building Flexibility Into The Estate Plan; and (8) Troubleshoot Problems.
Please read the full outline " The Basics Of Estate Tax Planning After The American Taxpayer Relief Act of 2012" and other corporate law or estate planning articles at: http://www.pozzuolo.com
Pozzuolo Rodden, P.C. provides specialized cost-effective legal services to privately held business owners and high-net-worth clients in Pennsylvania and New Jersey in excess of 35 years.
Practice Areas:
Business planning and transaction, complex business litigation, commercial real estate and development, construction law and litigation, advanced estate planning and administration, tax and pension law, high profile and intricate family litigation, and employment law and litigation.
Pozzuolo Rodden, P.C.
Counselors at Law
2033 Walnut Street
Philadelphia, PA 19103
215-977-8200