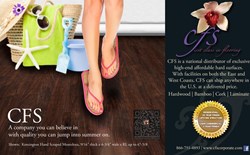 Montelena is one of our top sellers.
Suwanee, GA (PRWEB) June 16, 2013
CFS Flooring continues it's "Legs" campaign in June with another interesting installment. This month their ad features the familiar legs motif but with a new twist. The new ad running this month in Floor Covering Weekly features a beach goer jumping into summer on CFS's Montelena flooring from the Kensington Hand Scraped Collection.
The Kensington Hand Scraped Collection of engineered hardwood flooring comes in four colors: African Black Walnut, Golden Topaz, Natural Acacia and Montelena. The collection is now available.
CFS is a national wholesale distributor of hard surface flooring through a network of over 2,000 retailers. Based in Suwanee, GA the firm has additional offices in Oakland, CA and Shanghai, China. Visit cfscorporate.com for more information.
According to CFS Marketing Manager Bill Bryan: "Montelena is one of our top sellers."