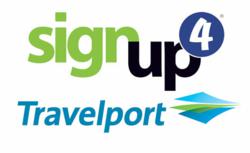 We're excited to work with Travelport to help enable event and travel professionals in Latin America an opportunity to utilize such advanced meeting technology
Atlanta, GA (PRWEB) June 19, 2013
SignUp4, the leading provider of strategic meetings management technology and Travelport, the leading provider of critical transaction processing solutions and data to companies operating in the global travel industry, have announced a new partnership to help expand SignUp4's technology presence within the Latin American marketplace.
This alliance will allow Travelport to provide its clients SignUp4's latest emerging technology and services including event website creation, online event registration, email marketing for events, direct GDS integration for booking travel and robust reporting and analytics. SignUp4's direct integration into Travelport's Worldspan and Apollo GDS helps bridge the communication gap between travel professionals, meeting planners and their attendees. This technology will help many in the region streamline their largely manual processes and provide unprecedented visibility into their attendees' registration and travel logistics.
"We're excited to work with Travelport to help enable event and travel professionals in Latin America an opportunity to utilize such advanced meeting technology," said Matt Curry, Director of Business Development. "We are looking forward to both strengthening our partnership and expanding our offerings globally."
"I am pleased to bring SignUp4's innovative offerings exclusively to our valued Travelport clients in the region," said Erika Moore, Regional Director, Latin America and the Caribbean, Travelport. "SignUp4 and Travelport have signed an exclusivity agreement for the distribution and support of this important tool. We are working closely with SignUp4 to ensure a seamless integration for all customers and we are sure they will be satisfied with the technology they will have at their fingertips."
About Travelport (http://www.travelport.com)
Travelport is a leading provider of critical transaction processing solutions and data to companies operating in the global travel industry.
With a presence in over 170 countries, approximately 3,500 employees and 2012 net revenue of more than $2.0 billion, Travelport is comprised of the global distribution systems (GDS) business, which includes the Galileo and Worldspan brands, its Airline IT Solutions business and a majority joint venture ownership in eNett.
Headquartered in Atlanta, Georgia, Travelport is a privately owned company.
Follow Travelport on Twitter at http://twitter.com/Travelport
About SignUp4
SignUp4 is the innovative meetings intelligence provider offering the highest quality strategic meetings management solutions with an affordable unlimited usage model. The goal of SignUp4′s meetings intelligence suite is to streamline workflows, simplify and drive registrations, efficiently manage travel logistics, improve communications, and provide visibility into meeting spend for leveraging contract negotiations and increasing ROI. With over a decade of experience, 3,500 users and over 80 of the Fortune 500, we understand the value of your time and events. Learn more at http://www.signup4.com follow us @SignUp4.